What Will Smith's Role In Bad Boys 3 Will Be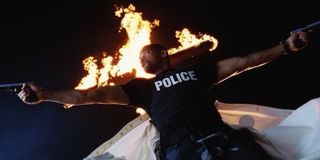 We're not only getting Bad Boys 3, we're also getting Bad Boys 4, which, if you're a fan of the insane, over-the-top mayhem of Bad Boys 2, is music to your explosion-rattled ears. As development still in the early going, there have been questions about what franchise stalwart Will Smith's role in the production will be, but now we have a better idea of his level of participation.
In an article detailing new Sony head Tom Rothman's aggressive slate of new films, of which the Bad Boys sequels are a part (and a Jumanji reboot?), The Hollywood Reporter reveals a bit of news on the Fresh Prince's role. Will Smith will be involved—you can't have a Bad Boys movie without one of the titular bad boys—but according to their insider source, it's currently not certain if he will star in the film, produce the picture, or both.
Not to be confused with the 1983 prison drama starring a then-young Sean Penn, we haven't seen much in the way of Bad Boys action in more than a decade. In 1995, the first film introduced the world to a pair of hot shot Miami detectives who play by their own rules—Mike Lowrey (Will Smith), a trust fund kid who does the cop thing for kicks, and his brother in arms, the neurotic family man, Marcus Burnett (Martin Lawrence). While the Michael Bay-directed action movie made a tidy sum, taking in $141 million worldwide, reviews were pretty mediocre.
In 2003, however, Bay and company kicked things up a few notches with Bad Boys 2. The film made $273 million globally, and though reviews were not kind, the movie is totally bananas. It's the most manic, gleefully excessive action flick ever made. At one point there's a car chase through a Cuban favela, and I don't mean through the streets, I mean they're driving a bright yellow Humvee down a mountainside, through the structures with a wonton disregard for human life. One story goes that Bay didn't particularly want to direct the film, so he went out of his way to spend as much studio money as possible, which includes using his own personal Ferrari 550 Maranello as a stunt car in an epic freeway chase so he could get a new one.
Hopefully Bad Boys 3 and 4 will maintain the insanity of their predecessor. The first film is okay, but it's the second that goes really bonkers. If they're even remotely similar to Bad Boys 2, Sony can keep cranking these out as long as they want and I'll keep watching them.
Bad Boys 3 is slated for release on February 17, 2017, while you can mark your calendars for Bad Boys 4 on July 3, 2019.
Your Daily Blend of Entertainment News
Thank you for signing up to CinemaBlend. You will receive a verification email shortly.
There was a problem. Please refresh the page and try again.