More On The Last Starfighter Sequel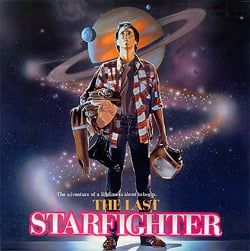 Yesterday here we were the first place anywhere to bring you the exciting news that a sequel to the 1984 sci-fi classic The Last Starfighter is in the works from George Paige and Associates, Relativity Media, and Universal Pictures. Now we have a few more details on classic's return to the silver screen.
First, it's all but confirmed that this thing is really happening. In addition to the information our scooper gave us last night, George Paige and Associates now has the movie listed as one of their credits on their official site, along with a few other interesting projects, like a Jerry Stiller Janeane Garafalo team-up called The Independent. They also list Relativity, Universal, and Warner Brothers as being involved in the project. One of the reasons so many studios are involved may have something to do with rights issues. The original movie was owned by Lorimar, which has since cease to exist. When Lorimar died, the rights to its projects were sold to a variety of different companies, leaving a lot of different people holding the bag.
Having so many different companies involved may not be a bad thing though, especially in light of a report which popped up online from Variety tonight which says that Relativity and Universal have just signed a big four-year deal to co-finance four billion dollars worth of new films together. Could one of those movies be The Last Starfighter? The timing of their deal makes it a tantalizing notion.
The one cause for concern here is George Paige and Associates, which doesn't exactly have a track record of big-budget, quality films. But with this deal between Relativity Media and Universal, maybe The Last Starfighter will get the kind of decent, big-budget release it deserves. In fact we've already heard from some sources that this will in fact be a theatrical release, one with a mid-range budget at least. This won't be a film thrown on the theatrical scrapheap.
So for now a lot of this is still rumor, but it does seem pretty certain that in whatever form it finally takes, a sequel to The Last Starfighter actually will happen, and I for one am starting to feel a little better about the way this particular burgeoning franchise may be treated.
Your Daily Blend of Entertainment News
Thank you for signing up to CinemaBlend. You will receive a verification email shortly.
There was a problem. Please refresh the page and try again.