The Mortal Instruments: City Of Bones WonderCon 2013 Live Blog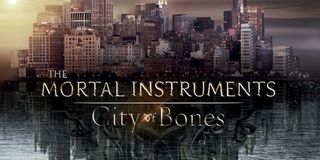 It's not just comic book movies that come to conventions anymore. Rather, the events have become about the fan experience as a whole, and in recent years that most definitely extended to young adult fiction. Proven by Harry Potter and Twilight in previous years at multiple conventions, there is a considerable audience of book-to-movie adaptations that will show up in droves. And now The Mortal Instruments: City of Bones, based on the hit Cassandra Clare series, is prepping to awe at WonderCon.
The panel is set to begin in the arena at the Anaheim Convention Center, with the filmmakers and stars set to both talk about the film and also show off some new footage. Keep refreshing this page for minute-to-minute updates!
2:40: Lily Collins! Jamie Campbell Bower! Kevin Ziegert! Cassandra Clare! All on stage!
2:41: Cassandra Clare says that it's an extremely surreal to be sitting on stage with her characters because they've lived in their head for so long, and was even weirder to step on set for the first time. She freaked out completely
2:42: She hasn't had a chance to see what the demons look like yet, but she's also looking forward to seeing Magnus' party, where she has a cameo. She has cat ears on, and they ended up being stuck to her head and she had to walk through airport security with them
2:43: Lily sees Clary as a "feisty, go-getter" and has to handle her situation without being a constant victim. She is always propelled forward and never gives up – she really admires her character for that.
2:43: Jamie says that working on Camelot helped him when it came to swinging a sword. It was a very physically demanding movie for everyone on set
2:44: Kevin Ziegert said that he didn't have much time to think about the fan presence of Mortal Instruments before the casting process, but figured it out by the time they were ready to roll. They wanted to please the fans of the book and make a good movie, and they hope that they were able to balance both.
2:45: When it came to the faithfulness of the source material, Cassandra Clare says that it stays true to the spirit of the books and the spirit of the character and they're world. Some things have to be altered or compressed. She hasn't seen the final movie, but from what she saw, from the sets and costumes and casting, it looks like they're trying to stick as close to the page as possible.
2:46: Collins says she read the books before taking on the role, so she had her own image in her head, but got a lot of confidence when Cassandra gave her approval. She notes that she can't focus on what everyone else's ideas are, however, because that doesn't allow her to live in the moment. Though she loved being a redhead.
2:47: Jamie says that we will absolutely see his character's arrogance on screen, though he also has a vulnerability. He opens himself up and has a great conflict within him
2:480: Kevin initially read the script before reading the books so that was his first exposure, but he did read ahead to see what happens. Though he didn't want to read too far because he didn't want the future stuff to leak into the character. He is enigmatic in the first story, which he was excited to play.
2:49: Cassandra says that she was more involved with the film than she thought she would be. The fact that they wanted her involved at all was a surprise. At the start she spoke for hours with the casting director and talked with her every single day and watched all the auditions. She definitely had a say in the casting as well. The more they consulted her, the more confident she felt.
2:51: Footage time! Time to watch the first ever trailer!
2:52: While I'm sure the trailer will show up online soon – the movie does come out in August – it does a good job of setting up the story of how Clary learns of her true destiny. Some of the highlights of the trailer include her mom (played by Lena Headey) getting kidnapped, which is followed by Clary returning home and being attacked by a demon. There is also a scene where she walks along with her new Shadow Hunter buddies, who are invisible to normal people, and runs into an old friend. "You look different," the guy exclaims, only to just get bumped by one of Clary's invisible friends. The end of the trailer is packed with all kinds of action, including giant flamethrowers, and ends with werewolves crashing through a window and attacking a bunch of bad looking dudes. "Werewolves are here to save us. Never thought I would say that," a character says.
2:54: Time for fan questions!
2:55: The first question is about the appropriate age for readers to start checking out the books. Cassandra says that the monsters can be scary, but she has readers as young as 7.
2:57: Is Simon going to be able to go back to what he was before? Spoiler alert! Cassandra dances around the question, saying that a lot of stuff happens, some of it unexpected. Cassandra really likes the werewolf line in the trailer.
2:58: Fan steps to the mic wearing a Clary Fray costume! Kevin says that the tattoos are very difficult to apply in the movie and that he had to get in early to get them applied. But Jamie had it the worst. Lily Collins also had the tattoos, and sometimes they took a very long time to come off
2:59: Who was your favorite character when you first read the book? Jamie says, beside Alec, that he loves Isabelle because "she's so killer and ruthless." Lily says she wishes she could have played Magnus because he wears a lot of glitter and there's always a lot of guys around – he has an allure that's unlike anything. Kevin also says Magnus, because he feels he has to.
3:01: Jamie and Kevin jokingly say that they absolutely hate each other and that there's actually a box standing between them that we don't see. Speaking seriously, they actually had a great bond and everybody was on the same page, which made it really easy to go into work. Jamie says that they're like a massive family, which is normally a lie, but true on this project.
3:03: What character does Cassandra see in herself? She says that she is like Simon in that she would get really freaked out by the supernatural and would quickly get killed.
3:04: Will we see Magnus with the blue spikey hair? Unfortunately Aubrey's hair wasn't long enough, but he does end up looking very Magnus-y.
3:05: Lily says her favorite part of filming the movie, on a sentimental level, was that she grew up a lot making the movie and learned a lot about herself. As a single experience it was the best she ever had.
3:06: Mom and her baby show up to the mic. She doesn't have a question, but just wanted to say thank you to the filmmakers and introduce them to her son, Jace!
3:07: And that's a wrap on Mortal Instruments!
For more of our WonderCon 2013 coverage, be sure to click over HERE
NJ native who calls LA home; lives in a Dreamatorium. A decade-plus CinemaBlend veteran; endlessly enthusiastic about the career he's dreamt of since seventh grade.
Your Daily Blend of Entertainment News
Thank you for signing up to CinemaBlend. You will receive a verification email shortly.
There was a problem. Please refresh the page and try again.