Move Over Batman! This Fan Made Trailer For Iron Man Vs Superman Is Awesome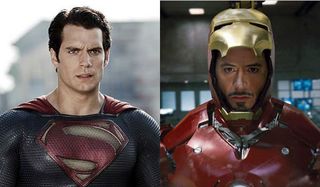 As we learn more details about the upcoming Zack Snyder film, Batman v Superman: Dawn of Justice it becomes difficult to contain our excitement until 2016. Whether it be playing around with the color scheme of the new batsuit or creating movie posters, fan-made fun is making the long wait bearable. Recently, one fan inspired by the upcoming film made his own trailer replacing Batman with Tony Stark. Watch what happens in this fan-made trailer for Superman vs Iron Man.
YouTube user Alex Luther created the epic video. And the trailer is amazingly edited with cuts from the Iron Man films as well as Man of Steel. The cuts all line up pretty perfectly and it even looks like the two are actually in the same scene during a lot of the action. The hypothetical scenario that would occur from pinning Iron Man against Superman is not too far-fetched. And I imagine if Marvel and DC would ever allow the two characters to meet, this is probably what would happen.
Henry Cavill's Superman and Robert Downey Jr.'s Iron Man are in a similar battle that may be occurring in the upcoming film (minus Tony Stark). After Superman finds General Zod's neck snapped, Tony Stark realized that he needs to find a way to protect the world from the power Superman holds. Superman comments that Iron Man will never find where he hangs his cape (which may be explored in Batman v Superman). And then, kryptonite comes in. How awesome is it that YouTube user Alex Luther edited Iron Man's arc reactor to be green kryptonite? With Tony Stark's intelligence, there's no doubt he would find a way to harness kryptonite into a weapon. I mean we are talking about Stark Industries here.
The plot of the upcoming Batman v Superman: Dawn of Justice is rumored to have a very "anti-Superman" theme. So when this fan-made trailer dives into the concept of finding some sort of protection against the alien superhero, it is not to far off from what the new film will be exploring as well. When we last left Superman, he had completely destroyed Metropolis, and killed General Zod. He protected the city, yes, but it was against a destructive force that was merely there because of him. This next film will most likely serve as a sequel to Man of Steel and though we are unclear how much time will pass between the last film and the new one, it is safe to say that he may not be appreciated by all.
While there may be no hope for a future Iron Man and Superman face-off, we will get to see The Man of Steel take on The Caped Crusader when Batman v Superman: Dawn of Justice hits theaters on March 25, 2016.
Your Daily Blend of Entertainment News
Thank you for signing up to CinemaBlend. You will receive a verification email shortly.
There was a problem. Please refresh the page and try again.