Movie Theaters Are Starting To Hold Autism-Friendly Screenings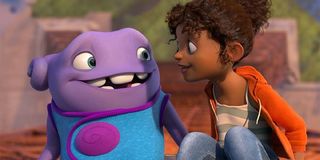 A growing number of cinemas across the United States are now offering all those who suffer from autism or special needs the opportunity to attend a movie specially suited to their needs for the very first time. The NCG Gallatin in Tennessee is the latest multiplex to organize monthly sensory-friendly showings, news that was announce earlier today.
According to The Tennessean (opens in new tab), the cinema recently became special needs certified, and they've now decided to utilize this declaration with a screening of Home at 10 a.m. on April 4th that will specially presented for audience members who have autism. But how will this screening differ from your usual visit to cinema? Well, NCG Gallatin's screening won't be preceded by any previews, its sound will only be running at 50 percent, the lights won't be dimmed all the way, and while running and talking during the film will be allowed.
Autism is a neurodevelopmental disorder that has been identified and diagnosed in around 1 in 68 children. Parents are usually able to identify or notice symptoms that their child suffers from autism in the first two years of their life. Characteristics of the condition see individuals suffering from bouts of aggression, language disability, and repetitive behavior, while they are struggle to pay attention and can be irrationally hyperactive or moody. As you can imagine, all of these things would make a trip to the local cinema a bit challenging.
Discussing NCG Gallatin's decision to start monthly sensory-friendly screenings, its General Manager Christ Troutman confirmed that there had previously been a huge turnout for a trial effort that confirmed that the demand for such an event was fervent. What makes NCG Gallatin's sensory-friendly screenings unique is that they're the first not to be associated with an autism organization. This means that a number of other cinemas could soon follow suit and allow autistic and disabled movie fans who have never walked into a cinema before the opportunity to do just that.
Amanda Peltz, who is Autism Tennessee's Executive Director, outlined the positives of such screenings, by explaining, "It's going to be an audience of people that understand if your child is standing up, talking at the screen and answering the questions that the actors are asking." She also praised the location for giving so many people the chance to visit a movie theater who have never done so before.
In coordination with the Autism Society, AMC has also been schedule ing their very own sensory-friendly films for families. Their program began after a parent with an autistic child asked for a special screening at an AMC in Columbia, Maryland, and when event was held over 300 children and parents arrived and attended the film.
In January and February, screenings for both Paddington and Spongebob Square Pants: Sponge Out Of Water were both very popular, while 10 more films will be shown in sensory-friendly formats across the country over the next 10 months in participating theatres. You can check here to see if you live near a theater that will be programming one of the events.
Your Daily Blend of Entertainment News
Thank you for signing up to CinemaBlend. You will receive a verification email shortly.
There was a problem. Please refresh the page and try again.