MovieTickets.com Suing AMC After Setting Up Fandango Deal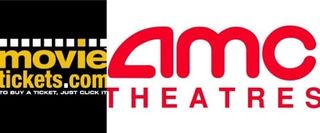 The announcement at Movies.com this morning was cheerful and full of positive spin: now you can buy tickets for AMC Theatres through Fandango, ending the silly process of searching for movie tickets on that site, only to see your local AMC grayed out, forcing you to go hunting elsewhere. (Note: Movies.com is owned by Fandango Inc.) But if you've lived near an AMC Theatre for a while, you might remember they do their sales through MovieTickets.com, a site that does pretty much the exact same thing as Fandango, but with different theatrical partners. Not only is AMC the biggest theater chain to sell through MovieTickets.com, they're a shareholder in the company-- and with AMC now offering their wares through Fandango, MovieTickets.com is striking back.
In a press release MovieTickets.com announced that it was suing AMC Entertainment, filing a suit in conjunction with National Amusements Inc.-- operator of 950 screens in the US, UK and Latin America, and more importantly the parent company of Viacom and CBS-- and Hollywood Media Corp., which owns a 26% share in MovieTickets.com along with several other holdings. Both are founding shareholders in MovieTickets.com, and in the press release they claim that their fellow founder AMC Entertainment "breached and continues to breach the MovieTickets.com Joint Venture Agreement, which obligates AMC to exclusively provide its ticket inventory to MovieTickets.com." Not only that, but they claim that AMC used "its inside position with MovieTickets.com" to pursue their own goals-- presumably they mean partnering up with Fandango-- and help damage MovieTickets.com. The release claims that the company's market value would have been more than $500 million if AMC had kept its end of the bargain, though the company's actual market value isn't mentioned.
Here's one last bit of the release to give you a sense of how grim things seem to be between the two companies:
Though it might seem like AMC is jumping ship to the more popular ticketing site, MovieTickets.com and Fandango are basically neck and neck. MovieTickets.com claims to be "the worldwide leader in advance movie ticketing" and Fandango calls itself "the nation's leading moviegoer destination," and both sell tickets to around 20,000 screens. It's a powerful argument that there could be a single online ticketing service, making it that much easier to compare showtimes and get everything squared away before heading to the theater, but it's also in everyone's best interest for there to be fair competition for the service.
We reached out to Fandango, and they had no comment. We'll be following this lawsuit to see how it shakes out between the two companies, and most important, how it might affect moviegoers who just want to be able to book their movie tickets in advance.
Your Daily Blend of Entertainment News
Staff Writer at CinemaBlend
Your Daily Blend of Entertainment News
Thank you for signing up to CinemaBlend. You will receive a verification email shortly.
There was a problem. Please refresh the page and try again.