The Muppets Sequel Is A Caper And Will Involve 5 New Songs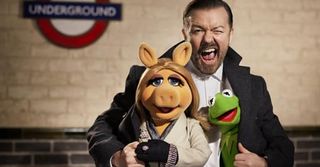 With The Muppets in 2011, director James Bobin and star Jason Segel successfully resurrected the fuzzy, furry puppet characters for a new generation. Now with the sequel, The Muppets… Again!, Kermit and MIss Piggy and the gang are back to their former glory, embarking on a worldwide tour… and apparently running into all kinds of trouble in Europe.
We don't know exactly what kind of trouble yet, except that it involves Tina Fey as a Russian prison guard and Ty Burrell as an Interpol agent. But the film's producer David Hoberman was at least nice to tease a few details to Crave Online about what we might expect from the sequel, admitting that while there are some caper elements there's a whole lot else going on too:
He also dashed any hopes you might have had about Jason Segel returning to make a cameo, even though his character Gary won't be part of the main action this time. "Down the road, maybe they'll [Gary and the Muppet Walter] have a reunion of some kind. He's not [in a cameo] this go round." But at least we can look forward to the return of songwriter Bret McKenzie, who won an Oscar for his work on the film last time and is back with 5 new songs:
Everyone involved in this newly revived franchise seems committed to keeping to the old-school ideals of Muppet movies, and now that the gang is back on top, we can look forward to them no longer being underdogs but the superstars they've always been. The Muppets… Again! is set to come to theaters on March 21 next year. Are you as excited for this one as you were for the last Muppets movie?
Staff Writer at CinemaBlend
Your Daily Blend of Entertainment News
Thank you for signing up to CinemaBlend. You will receive a verification email shortly.
There was a problem. Please refresh the page and try again.