Mystery Team Director Dan Eckman Adapting The Boy Who Couldn't Sleep And Didn't Have To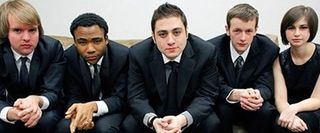 You may not recognize the name Dan Eckman, but if you aren't at least somewhat familiar with his comedy troupe, Derrick, you are missing out on some of the funniest videos on the web. Eckman rarely appears in these videos but stays behind the camera and lets his stars, one of which is Community star and Twitter king Don Glover, handle the acting. If you haven't seen Bro Rape, Keyboard Kid, or Blowjob Girl, I suggest you head over to YouTube right away and get searching.
Eckman also directed Derrick's first foray into the feature realm, Mystery Team, and according to Collider he's setting up his next feature right now with the adaptation of Derrick alum DC Pierson's novel The Boy Who Couldn't Sleep And Never Had To. The story follows the high school trials and tribulations of Darren Bennett, a friendless outsider whose awkwardness he shares with just one other, Eric Lederer. But when it is revealed that Lederer doesn't need to sleep, ever, the pair go on the run, hiding from god knows who, but whoever it is, they don't mean to make the two a nice cake.
Eckman recently directed Worst. Prom. Ever. for MTV, also producing with Meggie McFadden and DC Pierson himself. The three all co-wrote the script for The Boy Who Couldn't Sleep And Never Had To so this seems like a match made in heaven, even though Worst. Prom. Ever. probably wasn't the best project any of them have ever worked on. But hey, you gotta get your foot in the door somewhere.
Check back regularly for updates on Couldn't Sleep as Eckman will be shopping the completed script around very soon once he wraps up directing duties on Community's 13th episode in season 3.
Your Daily Blend of Entertainment News