NYCC Video Interview: Joe Cornish Talks Designing The Aliens In Attack The Block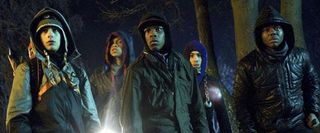 Miss out on catching Attack the Block in theaters this summer? That's a shame, but you're in luck because the DVD and Blu-ray are on the way. In honor of the October 25th release, writer-director Joe Cornish hit New York Comic Con to raise some Block pride.
The film features a young thug named Moses (John Boyega) and his gang, all of whom are out to earn a quick buck on the streets of South London. In the middle of a mugging, something crash lands nearby, taking the boys' attention off their victim and enticing them to investigate. What they find is out of this world – literally. Moses has a first encounter and rather than report his finding to the authorities, he takes it upon himself, with the help of his buddies, to beat the thing to death. If only he knew there were many more where that came from.
On top of being an incredibly innovative spin on the alien invasion genre, Attack the Block is simply an extraordinary achievement for Cornish as this is his first directing venture. A seasoned screenwriter, Cornish opted to wait until he amassed enough know-how to get behind the lens and apparently the plan worked because Attack the Block is not to be missed.
Check out everything Cornish had to say about developing the concept, working with his cinematographer, designing his aliens and more in the video interview below. Oh, and Cornish gets extra credit for literally directing this interview and setting up the perfect frame.
Staff Writer for CinemaBlend.
Your Daily Blend of Entertainment News
Thank you for signing up to CinemaBlend. You will receive a verification email shortly.
There was a problem. Please refresh the page and try again.