Seth Rogen Admits That Babies Eating Condoms Makes Him Laugh Until He Cries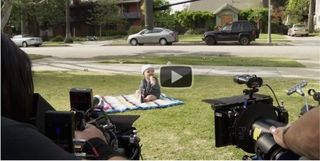 So far in the Neighbors marketing campaign, Seth Rogen and Zac Efron have been getting the majority of the spotlight, with each representing a warring faction of this parents vs. frat comedy. But the latest featurette puts the focus on the film's littlest stars, Elise and Zoey Vargas, who play baby Stella. Check it out up top.
Directed by Nicholas Stoller, Neighbors follows the misadventures one married couple has when a rowdy frat moves in next door. Seth Rogen stars as Mac Radner, a pencil-pusher and new dad whose terrified of getting old and giving up on the partying he so enjoyed in his twenties. Bridesmaids' Rose Byrne joins him as Kelly, his loving wife and a bored-to-tears stay-at-home mom who finds much needed excitement in their growing war with the frat next door.
When Neighbors premiered at SXSW last month, our own Sean O'Connell reported that even though this raunchy comedy boasts turns from such hysterical performers as Ike Barinholtz, Carla Gallo, Christopher Mintz-Plasse, Jerrod Carmichael, Craig Roberts and Dave Franco, it is Zac Efron who proves to be the movie's funniest element. But don't sell short the Vargas twins. As you can see in the clip above, these teeny additions to the ensemble are not just adorable, they are naturals when it comes to making hilarious scenes that are wildly inappropriate. From giggling at Daddy's bong collection, to flirting with frat boys, cos-playing Breaking Bad, and nibbling discarded condoms, these babies can do it all.
For more of the aftermath of the baby finds stray condom moment and other child-rearing disasters, check out Neighbors' restricted trailer.
Besides the trailers, these cute little cut-ups are also appearing on Neighbors posters, like the one below. Sure Rogen and Efron get their names a the top of the poster, but one of the Vargas girls is pulling focus from her Baby Bjorn perch.
Baby Stella's likeness has also earned its own poster, which has been cropping up on subways across New York City as well as massive billboards. Here one of the Vargas babies has been photoshopped to be the frat's youngest keg master ever.
Not too surprisingly, Neighbors marks the screen debut of Elise and Zoey Vargas. But audiences will see more of these charming twins as they'll be sharing the role of baby Trevor in Miguel Arteta's adaptation of Judith Viorst's beloved chidren's book Alexander and the Terrible, Horrible, No Good, Very Bad Day.
Neighbors opens May 9th. Alexander and the Terrible, Horrible, No Good, Very Bad Day will follow on October 10th.
Your Daily Blend of Entertainment News
Staff writer at CinemaBlend.