Newcomer Sophie Cookson Beats Out Emma Watson For Secret Service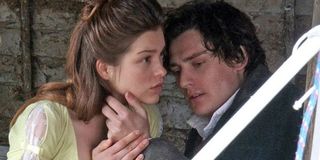 While famed filmmakers like Sofia Coppola, Darren Aronofsky, and Guillermo Del Toro have been clamoring to work with Harry Potter child star turned glamorous ingénue Emma Watson, polarizing director Matthew Vaughn has just rejected the chance to work with her, favoring a much lesser known actress for his next venture. Variety reports Vaughn has chosen relative newcomer Sophie Cookson to play the female lead in his crime thriller The Secret Service opposite Colin Firth, Taron Egerton, Michael Caine, and Samuel L. Jackson.
To date, Cookson's only credited roles are in a British TV movie called Unknown Heart, and the Ray Winstone-fronted UK mini-series Moonfleet. You can see her in costume from the latter above. While neither of these has yet to air, Cookson proved in auditions to be just what Vaughn was looking for the role. Details on the part are currently being withheld. Regardless, The Secret Service is an envious opportunity for Cookson, who also beat out Dark Shadows beauty Bella Heathcote. Beyond making her film debut here, Cookson will be co-starring with major stars in a movie that is sure to get notice, as all of Vaughn's manage.
While his decision to go with a lesser-known actress has surprised some, it's actually par for the course for Vaughn, who has a true eye for talent. Variety notes that before Daniel Craig was drinking weak martinis as James Bond, Vaughn had spotted his leading man appeal, casting him in his directorial debut Layer Cake. Moreover, Vaughn deserves credit for launching the careers of Aaron Taylor-Johnson and Chloe Moretz, who both broke through Vaughn's fierce and funny adaptation of the Mark Millar comic Kick-Ass.
Fans of that film (or its now in theaters sequel) might be glad to know The Secret Service is also based on a Millar graphic novel. As he did on Kick-Ass, Vaughn co-wrote this adapted screenplay with his producing partner Jane Goldman. In the film, Firth stars as a veteran MI6 agent who attempts to save his street smart nephew (Edgerton) from falling into bad crowd by taking him under his wing. Caine is set to play the head of the British spy agency. Adding some serious swagger to an espionage thriller that will likely have a darkly comedic thread, Jackson will play the piece's villain, though at this point no details have been offered to describe his nefarious character.
Marv Films will finance and produce The Secret Service, while Fox will distribute. There's no word yet on when this thriller might roll into production. In the meantime, Colin Firth can be seen in The Devil's Knot, which just made its world premiere at the Toronto International Film Festival. Samuel L. Jackson will appear in Spike Lee's Oldboy, which hits theaters in the US on November 27th, and Michael Caine can be enjoyed in the magician heist movie Now You See Me, which is now on DVD and Blu-ray.
Staff writer at CinemaBlend.
Your Daily Blend of Entertainment News
Thank you for signing up to CinemaBlend. You will receive a verification email shortly.
There was a problem. Please refresh the page and try again.