Nia Vardalos Has Big Fat Plans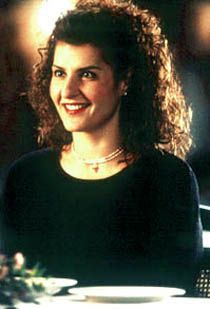 My Big Fat Greek Wedding is one of the highest grossing independent films ever, so it was only a matter of time before a second helping was considered. Ready or not, here it may come.
According to PR Inside and Moviehole, Nia Vardalos is toying with the idea of a sequel to the 2002 mega money-maker, especially after her drag-queen flick Connie & Carla failed to bring in the money. What happened? "I ran out of ideas! So I took some time off. I waited and finally some ideas came to me and I've started writing again. I'm not saying there will for sure be a sequel, but I'm not saying there will for sure not be a sequel", she says vaguely.
Instead of the obvious follow-up "My Big Fat Greek Divorce", Vardalos will be going with something more obscure like "My Big Fat Greek Baptism", "My Big Fat Greek Lunch" or "My Big Fat Greek Thighs". How about "My Big Fat Greek Complete Lack Of Originality?" I guess that doesn't have quite the same ring.
Your Daily Blend of Entertainment News
Thank you for signing up to CinemaBlend. You will receive a verification email shortly.
There was a problem. Please refresh the page and try again.