Nicole Kidman Will Cameo In Anchorman: The Legend Continues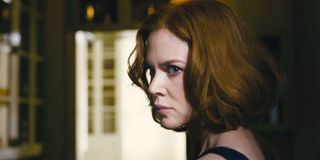 The cast of Anchorman 2 is already crammed with familiar faces, from the core quartet of Will Ferrell/Paul Rudd/Steve Carell/David Koechner to total newcomers like Harrison Ford and Kristen Wiig. Is there room for yet another giant star to add to the mix, though? Of course there is!
And the latest star to venture to the Atlanta set is probably not who you'd expect. The Hollywood Reporter says that Nicole Kidman will have a "secret," uncredited role in the film-- though the fact that the news is out there probably means it's no longer a secret. She, Vince Vaughn and Luke Wilson all reportedly filmed brief appearances, which leads me to hope that Kidman will be involved in a sequel to the famous rumble from the first film, in which Wilson lost an arm at the hands of Tim Robbins and Brick Tamland somehow stabbed a guy with a trident. You know what's never a bad time to revisit that scene? This time:
With Anchorman 2 due in theaters December 20, director Adam McKay ought to be rushing to get the film finished-- which means we're unlikely to hear about may more surprise cameos. And given that I had no idea Tim Robbins would be in the first rumble scene, I kind of don't think I want to learn anymore. We've waited this long for Anchorman: The Legend Continues. Can't we hold tight and keep a few more mysteries alive?
Staff Writer at CinemaBlend
Your Daily Blend of Entertainment News
Thank you for signing up to CinemaBlend. You will receive a verification email shortly.
There was a problem. Please refresh the page and try again.