Nicole Kidman Too Pregnant For An Erotic Awakening?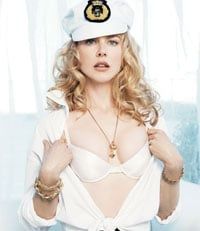 The Reader may be in trouble. I know, pick yourself up off the floor. In case you missed our report on it back in September, The Reader was supposed to be one of Nicole Kidman's next projects. Even better, the way it was described, it sounds like some sort of pseudo erotica. In The Reader a man played by Ralph Fiennes recounts the story of his erotic awakening during a secret love affair with an older woman in the midst of WWII. Presumably Kidman was to play the older woman except now, a month before filming, she seems to have lost control of her belly.
Page Six says Nicole Kidman may be unable to give Ralph Fiennes a er… take him to Starubucks, because she'll be busy being pregnant. Kidman's people deny it, but they say she's with baby, and the nude scenes (assuming there were any) just don't work with a bump on her belly. Well, unless you're one of those pregnancy fetishists, but that's an entirely different movie. Freaks!
So word is that Kidman is ditching The Reader leaving director Stephen Daldry to find another cougar for his movie. Sounds like a job for Angelina Jolie to me. Kidman fans will have to console themselves with rewatches of Eyes Wide Shut. Plenty of erotic awakening in that one.
Your Daily Blend of Entertainment News