The Nightmare On Elm Street House Is Up For Sale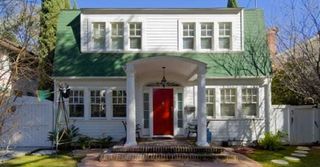 With its concrete cracked, paint peeling, insides rotting, and backyard pool turned black from neglect, the fixer-upper that Angie Hill bought in 2006 was a total nightmare. But really this was fitting. After all, this was the house where Freddy Kruger tormented teens in the fictional suburb of Springwood, Ohio, in the 1984 slasher classic A Nightmare on Elm Street. But over the past several years, Hill has worked hard to transform this battered building with a checkered past into a lovely home. And it can be yours for just $2.1 million dollars.
On the outside, it's still reminiscent of the place where A Nightmare on Elm Street's heroine Nancy Thomas battled her need to sleep as well as the serial killer Krueger. However, Hill told AOL that she essentially gutted the inside, replacing "every piece of wood" and reworking the floor plan. (You can see a slide show of the transformation on AOL.) Now, this dream house boasts 3 bedrooms, each with their own bathroom, a solar-heated pool, living room fireplace, and even a guesthouse. Plus, it is a part of movie history, which could make it even more marketable in Los Angeles, where the house actually sits on Genesee Avenue.
With a real-life Jaws is off the coast of New England, and the house that Nightmare made famous is on the market, it's a strange day for horror movie-related news. But how many of you would actually want to live in a house where a classic horror movie was shot? Sure, it's a lovely looking house, but could you get a good night sleep there? Weigh in on our poll, below:
This poll is no longer available.
Your Daily Blend of Entertainment News
Staff writer at CinemaBlend.