Noah Screening Rain-Checked When Theater Floods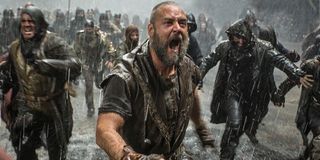 A couple of weekends ago, Darren Aronofsky's unique biblical epic Noah took theaters by storm in the U.S., brewing up an impressive $43 million to top the box office. Then, this past weekend Noah was unleashed on the United Kingdom, where one theater unexpectedly offered a splash zone of its own.
Express & Echo shares the story of a movie theater that was forced to offer rain-checks to audiences trying to see Noah on account of flooding. Thankfully, this wasn't a flood on the level of the one that urges the film's titular character to construct a massive ark. It wasn't even the kind that your local meteorologist would warn you about. Instead, this flood was the result of a faulty ice machine that wreaked havoc on the theater overnight.
Workers at the Vue theater in Exter, England, discovered the damage upon reporting in at 7 A.M. to prep for the day's first showings. Among these was a 12:15 P.M. screening of Noah, which was cancelled along with all other showtimes before 2 P.M.
I'm just going to put this here…
A spokesperson for Vue cinema released the following statement:
No mention was made as to whether or not the theater's property insurance holder will consider this an Act of God.
Box office totals for Noah's UK debut haven't yet been released, but overall the daring drama with a $125 million budget has already made $106 mil total in foreign territories like Australia, Mexico, South Korea, and Russia. Domestically, Noah has climbed to $73 million while winning plenty of praise from critics. Our own Sean O'Connell celebrated the film's unexpected interpretations of the well-known bible story, writing in his review, "Overall, Noah is exactly the type of large-scale, ambitious, challenging, flawed, provocative and button-pushing type of cinematic experience we should hope to get when a strong-willed auteur like Aronofsky is given an exceedingly large budget."
After debuting strong, Noah saw a 61% drop in its weekend gross in its second week. But with a $17 million take, the film was still able to grab second place behind the box office titan that is Captain America: The Winter Soldier. It will be interesting to see how Noah's journey at the box office will continue, bumping up against Marvel's latest mega-hit week after week. As we've mentioned, though, the U.S. isn't the only market that matters for Noah. Despite being banned in several countries--including Qatar, Bahrain, The United Arab Emirates and Malaysia --Noah still has new terrains to conquer. It's slated to open in 13 more territories--including Italy, France, Venezuela and Japan--in the coming weeks.
Your Daily Blend of Entertainment News
Staff writer at CinemaBlend.