Nosferatu Is Getting Remade, Get The Details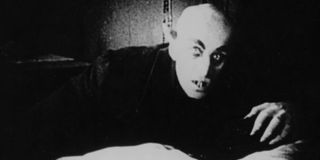 When it is announced that classic films are going to be remade, a ripple of disgust often soon follows from purists. This can sometimes be understandable. But it shouldn't be the case with the news that Nosferatu is going to get redone, since the original seminal expressionist horror flick is now over 93-years-old, and its impending face-lift should instead leave movie fans purring with excitement.
Variety have reported that Robert Eggers has been brought onboard by Studio 8 to write and direct their remake of the 1922 horror film, which, at this point in time, still remains untitled. Eggers will be joined on the production by Jay Van Hoy and Lars Knudsen, who will produce Nosferatu through their Parts and Labor label.
Rather than being a direct remake of the original Nosferatu , though, Robert Eggers and Studio 8's version will instead just be based on it. F.W. Murnau's 1922 film starred Max Schreck as the rather hideous vampire Count Orlok, who finds himself interested in having a new residence - and then becomes more and more engrossed by the wife of his real estate agent. This unfortunately leads to him gobbling on the neck of several individuals as he has quite the hunger for blood.
Robert Eggers new version of Nosferatu certainly has a big job on its hands to try and eclipse the original, as Murnau's film is widely regarded as one of the greatest horror films of all time. It is currently the third best-reviewed horror film on Rotten Tomatoes with a score of 97%, despite the fact that only a few prints of the film actually still exist.
Why are there so few versions of the film left? Because Nosferatu was an unauthorized version of Bram Stoker's Dracula that tried to get around any legal dispute by changing the name of Count Dracula to Count Orlok and referring to a vampire as a Nosferatu instead. Unfortunately, that plan failed rather miserably, and Stoker's heirs soon set in motion plans to sue the filmmakers, which ultimately led to a court insisting that every single copy of the film be immediately destroyed.
Those who did manage to see Nosferatu , though, soon started to wax lyrical about how ground breaking it was, and over the decades it's developed a cult following. In fact, its reputation has grown and grown to such a point that it is now regarded as one of the most influential films ever created.
Robert Eggers should be hugely confident that he can make a substantial and impressive modern version of Nosferatu. Hollywood producers and studios have been watching the filmmakers career with growing interest after The Witch premiered at Sundance earlier this year to stunning reviews. He's already attached to direct The Knight for the studio as well.
Your Daily Blend of Entertainment News