Now See The Star Wars Episode VII Trailer Done With Lego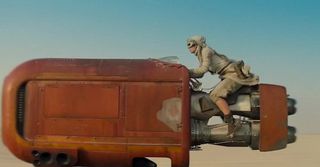 It's been a little over 24 hours since the drop of the Star Wars: The Force Awakens trailer. You've probably already re-watched it a number of times, tried to determine who voices the narration, why Luke, Han and Leia are missing, and what the deal is with that lightsaber sword. But while we've been pondering the questions left by the teaser this past day, one fan took it upon himself to recreate the trailer in Lego form, and uploaded just 14 hours later.
YouTube user Snooperking has a few Lego stop-motion videos under his belt, but this may be the best. He admits that he 'had nothing to do yesterday' so he spent a mere 12 hours of his day to recreate the teaser. According to Snooperking, after he saw the trailer, he went right to building, making the "Falcon, The X-Wing, The speeder bike thingy, a mini tie fighter," built all of the sets then starting filming. Most of the video uses stop motion, except for the X-Wing and Falcon scenes.
It's incredibly impressive, and stayed perfectly true to the original trailer. From the rolling droid to the sword-like lightsaber, the usage and build of props and characters is extremely clever. Even the line-up of the stormtroopers on the attack is pretty spot on with the faulty lights. You should probably watch the original Star Wars: The Force Awakens Trailer, just as a reminder. No matter how many times you watch it, it still gets better.
Snooperking's remake will go down as the first, but expect many more Lego versions of the trailer to come. Because Lego and Star Wars are kind of a match made in toy heaven. Probably be prepared for the inevitable Lego Star Wars: The Force Awakens video game, Lego box sets and more.
But by far the best part about this YouTube video, as well as all of the other fan-made Force Awakens fun that has and will be taking over the internet in the next few days, is that we can all share our giddy excitement and start counting down the days until its release on December 18, 2015.
Your Daily Blend of Entertainment News
Thank you for signing up to CinemaBlend. You will receive a verification email shortly.
There was a problem. Please refresh the page and try again.