Now There Are Two John McAfee Biopics On The Way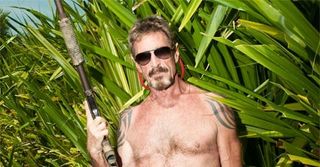 You'd think the life of a computer software developer wouldn't be all that interesting. Well, that might be true for most, but not John McAfee. The inventor of the wildly successful McAfee anti-virus software has all kinds of intrigue and drama tangled in his life story... allegedly anyway. He has not only been suspected of operating a meth lab in Belize before being deported, but is also a person of interest in the murder of his neighbor with whom he was known to be engaged in a bitter battle.
Earlier this month, we reported that Warner Bros,. in conjunction with writing-directing duo John Requa and Glenn Ficarra, is developing a biopic based on the Wired article "John McAfee Fled to Belize, But He Couldn't Escape Himself." Now, THR reveals another McAfee movie is in the works, this one based on McAfee's personal memoirs.
It's a strange thing when biopics come in pairs. Sometimes it provides two perspectives on what is essentially the same story, like Capote and Infamous which both centered on Truman Capote's life during the creation of his book In Cold Blood. Sometimes they offer windows into the various stages of someone's career, as Hitchcock and The Girl did for Alfred Hitchcock—for better or worse—this year. And sometimes the one kills the other, as Lovelace seems to have smote the competing Linda Lovelace biopic Inferno. When it comes to these dueling McAfee projects, it's hard to say which will come out on top. But one thing is for certain: both should prove pretty damn interesting.
The Canadian company Impact Future Media has exclusive IP rights to McAfee's life story, so their movie will start with his childhood and work its way to more recent and outrageous events. Currently titled Running in the Background, the biopic is budgeted at $28 million dollars and will be produced by Michael Mosca and Francesca Visconti. In a statement about the production, Mosca offers this curious declaration: "Although Mr. McAfee's recent adventures have been widely publicized, the surface has barely been scratched regarding his life story."
Running in the Background is now in pre-production.
Staff writer at CinemaBlend.
Your Daily Blend of Entertainment News
Thank you for signing up to CinemaBlend. You will receive a verification email shortly.
There was a problem. Please refresh the page and try again.