The One Thing DC Does Better Than Marvel When It Comes To Superhero Movies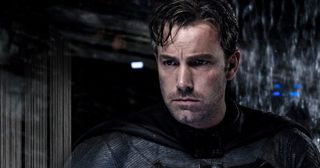 Captain America: Civil War is now finally upon us, and having received better reviews than Batman V Superman: Dawn Of Justice, it's already well on its way to eclipsing it at the box office, too. But while Marvel Studios deserve all the praise that they're inundated with for the manner in which they've built their cinematic universe, Captain America: Civil War once again proves that Warner Bros. provide their directors with much more freedom as filmmakers to create distinctive and more visually textured efforts.
Now, that's not always going to be a positive, because it blew up in their faces (to a certain extent) with Batman V Superman: Dawn Of Justice. But the hiring of Zack Snyder, Christopher Nolan, James Wan and Michelle MacLaren (who was ultimately replaced on Wonder Woman by Patty Jenkins) proves that Warner Bros. aren't afraid to make bold director choices, while Man Of Steel, The Dark Knight trilogy, and, even, Batman V Superman: Dawn Of Justice are each littered with moments that show the studio also gives these filmmakers room to make the blockbuster they desire without too much interference. The same can't really be said for Marvel.
Let me perfectly clear. I absolutely adored Captain America: Civil War. In fact, I am currently convinced that it's my favorite Marvel film yet. It runs as smoothly as a freight train, and is light, bright, and stupendously entertaining.
But it also looks exactly like every other Marvel film.
One thing that you have to admit about Batman V Superman: Dawn Of Justice is that it was very, very different from likeminded superhero blockbusters, and you were always very much aware that Zack Snyder was directing. He made his presence known in pretty much every frame. That's what happens when you include five dream sequences in a film, one of which was inside another dream sequence, for some ridiculous reason. Even bona-fide movie and comic book nerd Kevin Smith praised the spectacle of Batman V Superman: Dawn Of Justice, calling Snyder a "beautiful visual stylist" before adding, "Boy, he knows to compose a frame and how to setup a shot." Unfortunately Zack Snyder went over the line with his stylistic choices, though, which combined to overwhelm the narrative.
Zack Snyder's start to the DC Extended Universe with Man Of Steel and Batman V Superman: Dawn Of Justice has obviously been divisive. But the fact that Warner Bros. has given him such creative freedom deserves to be praised, even if the results have been mixed.
Warner Bros. has a strong track record when it comes to assisting its directors. Just ask Mad Max: Fury Road's George Miller, who was allowed to make the movie he wanted, no matter how crazy it sounded on paper. This worked wonders in the comic-book genre for them with Christopher Nolan's Dark Knight trilogy. But, in Zack Snyder, they're allowing a truly divisive figure who provokes more ire than acclaim to lead and arc their DC Extended Universe.
At the moment, it's not working out too well for them. But I want to believe that Warner Bros.' decision to put their faith in Zack Snyder and other filmmakers will pay dividends and ultimately produce more grandiose productions that are each uniquely cinematic and still merge together and build an expansive universe.
Obviously, Marvel Studios has excelled using a different method. Kevin Feige's innate knowledge of the Marvel Universe has seen him rise from associate producer on X-Men to being the president of Marvel Studios, and the films he has produced have grossed over $9 billion at the worldwide box office, an amount that's only going to grow over the next few years. Obviously Feige's approach has connected with audiences and critics who ,after 8 years and 13 films, are still completely hooked and enthralled with the Marvel Cinematic Universe.
In fact, his impact on modern cinema has been so vast that Feige has even been compared to George Lucas, and that's not far-fetched. But in the end, he's still a producer whose vision for the entire Marvel Cinematic Universe has been at odds with some of the strong cinematic personalities that have tried to work on singular installments.
The most glaring example of this is Edgar Wright's departure from Ant-Man. The Shaun Of The Dead, Hot Fuzz, and Scott Pilgrim Vs The World director was officially hired by the studio to oversee Ant-Man's production in 2006. But then, creative differences delayed the film for years, with Edgar Wright finally leaving the project in May 2014. It's not that Peyton Reed's Ant-Man was bad. It's just that it wasn't as bold of a vision as fans had originally hoped. After seeing it, you couldn't help but imagine what Edgar Wright's version would have looked like, as he's such a distinct and visually arresting filmmaker who's often delightfully idiosyncratic in how he shoots his action. The fact that Marvel didn't provide him with the freedom to do that is further proof that they'd rather have their films feel and look the same, for better and for worse.
Now, that hasn't not been the case for EVERY Marvel directors. Scott Derrickson's Doctor Strange already looks as though it will take chances, while the likes of Kenneth Branagh (Thor), James Gunn (Guardians Of The Galaxy), and Joss Whedon (The Avengers, but not Age Of Ultron which basically killed him) were each able to instill their own personalities into their blockbusters.
But the best Marvel films – Iron Man 3, The Avengers, Captain America: Winter Soldier, and Captain America: Civil War – have excelled because of the voices and wit of Shane Black, Whedon, Gunn, and The Russo Brothers, respectively, rather than their look. And even then, they all still, ultimately, felt a little safe and fit snuggly into the same visual template and structure that Hollywood blockbusters have been using for decades.
Has it always been this way for Marvel? Let's explore.
Phase One of the Marvel Cinematic Universe, in my humble opinion, consists of five pretty average blockbusters. Iron Man, The Incredible Hulk, Iron Man 2, Thor, and Captain America: The First Avenger are just too similar, as the titular superheroes all end up fighting slightly different versions of themselves in the shape of Obadiah Stane, Abomination, Ivan Vanko, Loki, and Red Skull, respectively.
Now, it's not just up to DC and Marvel to try and evolve the comic-book genre before it stagnates and audiences start to feel the pangs of superhero fatigue. But the other studios with comic-book properties are still struggling to establish their own universes. 20th Century Fox hasn't been able to get The Fantastic Four off the ground to accompany their increasingly convoluted X-Men franchise. Meanwhile, Sony decided that their best bet was to join rather than compete against Marvel Studios, which they did by effectively loaning Spider-Man to the larger MCU.
Marvel's thriving success means that they're unlikely to alter their producer driven approach, which means that it's probably up to DC to try and progress the superhero genre with more varied cinematic output. While they were obviously both hugely divisive, Man Of Steel and Batman V Superman: Dawn Of Justice did show signs that the DC Extended Universe could do just that. Man Of Steel's opening hour, especially the exploits and destruction of Krypton, Clark Kent's backstory, the introduction of General Zod, and the Battle Of Smallvile, were utterly superb. It's a shame that film's final act, with its overly violent and angry antics, didn't just hinder Man Of Steel, but also weren't nipped in the bud in Batman V Superman: Dawn Of Justice, and instead became more prominent.
Unfortunately, it looks as though DC is now going to play it safe and mirror Marvel's model because of Batman V Superman: Dawn Of Justice's failure to gross $1 billion, as well as its critical mauling. It was too late to get Zack Snyder off Justice League, as its production began just days after Batman V Superman was released. But, according to Birth.Movies.Death's sources, Warner Bros executives have taken a much more hands on approach with Zack Snyder over his vision for Justice League, which has allegedly led to some stand-offs. Meanwhile, first time director Seth Grahame-Smith left The Flash over "creative differences," and there were even rumors that James Wan might depart Aquaman, too (though that talk ultimately was quashed).
It's understandable that Warner Bros. is becoming more involved in the development of the DC Extended Universe, as the likes of Batman, Superman, Wonder Woman, and Green Lantern are just as iconic as any of the Marvel superheroes, and should be attracting huge audiences. But the fact that they are is likely to put them at odds and smother the creativity of any filmmaker who tries to work on a DC Extended Universe project. There's only going to be one winner in that battle, which means that the comic-book genre output could soon be diluted down even further, and that will only be bad for superhero films.
This poll is no longer available.
Your Daily Blend of Entertainment News
Your Daily Blend of Entertainment News
Thank you for signing up to CinemaBlend. You will receive a verification email shortly.
There was a problem. Please refresh the page and try again.