Oscar-Winning Animated Short The Fantastic Flying Books Of Mr. Morris Lessmore Now Online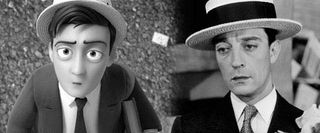 At Sunday's Academy Awards it seemed that looking back paid off big as two different homages to silent cinema, The Artist and Hugo, earned five Oscars a piece. Yet these were not the night's only Oscar-honored tributes to silent film - just the longest. In the often overlooked category of Best Animated Short Film, it was the whimsically titled The Fantastic Flying Books of Mr. Morris Lessmore that explored the possibilities of dialogue-free storytelling to come out on top.
Conceptual designer Brandon Oldenburg and children's book author/illustrator William Joyce co-directed the charming tale of Mr. Morris Lessmore, a hapless bookworm who bears a striking resemblance to silent cinema icon Buster Keaton, down to his signature porkpie hat. It's no mere coincidence, as Joyce, who also wrote the script, was inspired by Keaton's intensely physical yet bittersweet brand of comedy, and blended it with some fantasy elements straight of The Wizard of Oz to create a heartwarming tale about the wonder of books, a story he notably tells below without a word:
Surprisingly, it was Hurricane Katrina and its horrible aftermath that motivated Joyce to craft a tale of hope and reconstruction. After years of work and a mix of animation styles—from miniatures to CGI, and 2D animation--the result is The Fantastic Flying Books of Mr. Morris Lessmore, which beautifully captures the feeling of loss without feeling exploitative or overwrought. Here, after being blown far from home and all he's known, Mr. Morris Lessmore literally picks up the pieces and finds solace in books, a solace he shares with all those around him, literally bringing color back into their lives. It's a touching and darling cartoon that is totally worth 15 minutes of your time.
Next up from Joyce will be Rise of the Guardians, a feature-length animated adventure that centers on such legendary figures as Santa Claus, Jack Frost, the Tooth Fairy, and the Easter Bunny. Joyce contributed to the screenplay and serves as executive producer on the film that is based on Guardians of Childhood, his forthcoming book series. Rise of the Guardians opens November 21st, 2012.
Your Daily Blend of Entertainment News
Staff writer at CinemaBlend.