Pacific Rim 2 Will Be 'Very Different' From The First Film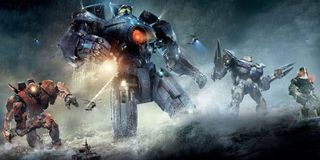 Pacific Rim 2 will monster stomp its way to theaters in a few years. But if you're drooling for details on where this Kaiju vs. Jaeger battle might lead, you'll be glad to know Guillermo del Toro is dropping hints already.
Speaking to The Wall Street Journal, Pacific Rim's writer/director/producer Guillermo del Toro confessed he and collaborators Travis Beacham and Zak Penn have been brainstorming on where this epic battle could go for a about a year and a half already. He expands:
The director didn't expand on how the tenor of Pacific Rim 2 might be different; however, he did confess that the sequel will bring in some new characters who will mirror the diversity shown in the first film. He says:
Fans of this growing franchise will be thrilled to learn that Guillermo del Toro will be in full-on Pacific Rim 2 mode in just six weeks. That's when a projected nine-month period of Kaiju and Jaeger designs will begin. By August, del Toro will be reuniting with his production design team to tackle the intimidating task of creating a new slew of robot warriors and massive monsters. But don't expect Cthulhu to make an appearance. The beast is associated with H.P. Lovecraft's At the Mountains of Madness, which Del Toro has long been trying to adapt. But no matter how long that takes, he doesn't intend to throw the iconic creature into Pacific Rim's world, dismissing the idea with a chuckle.
Pacific Rim 2 will open April 7, 2017.
Your Daily Blend of Entertainment News
Staff writer at CinemaBlend.
Your Daily Blend of Entertainment News
Thank you for signing up to CinemaBlend. You will receive a verification email shortly.
There was a problem. Please refresh the page and try again.