Pamela Anderson Has A Really Strong Opinion On The Baywatch Remake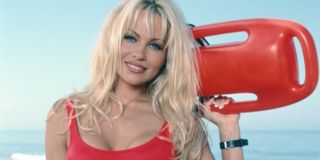 Pamela Anderson and Baywatch are practically synonymous, so when the star of the TV series says a movie remake is a bad idea, we all might want to listen up. Dwayne "The Rock" Johnson and Zac Efron are banding together to star in a new Baywatch movie, and the woman who basically made this property (and slow-motion running) a thing has some thoughts about it.
TMZ caught up with Anderson, who played lifeguard C.J. Parker in the original TV series from the '90s. When asked about what she thought of the new movie, she said:
She continued to say that the film wouldn't work in 2015 because the '90s were "a sweeter, simpler time" for TV. She also praised the Baywatch series as being the best time of her life, but it should be noted that she was not asked to reprise her role for the movie remake, according to TMZ.
On the other side of this argument is David Hasselhoff, who, according to Radar Online, is in talks to appear in the film. A source claims that he hasn't signed on yet because he's demanding a boat-load of money, believing the movie won't survive without him. Back in 2012, before director Seth Gordon came aboard and the 21 Jump Street-style direction was decided upon, Hasselhoff said he'd appear as himself in the remake and not his character Mitch Buchannon. Though, that detail could've changed since then.
Dare we pose this question, but is Pamela Anderson right? If you look back on the movie remakes, there's perhaps a handful that have stuck and will likely stand the test of time. Channing Tatum and Jonah Hill's 21 Jump Street is one of them, but the fact that the Baywatch movie will follow in this same direction speaks to Hollywood's trend of over-saturation when a film becomes successful for doing its own thing. The Rock and Efron certainly have enough star power to attract a new generation of theatergoers to a project like this, but Anderson might be right on the money. The vast majority of remakes seem to be fast and easy money, but not longterm winners.
In defense of the remake, Efron distanced the movie from the original property. After telling Reuters it would be "R rated and badass," he said:
Pamela be damned, this is happening whether she likes it or not.
Your Daily Blend of Entertainment News