Watch David Hasselhoff Go Off In An Epic, NSFW Rant About His Own Greatness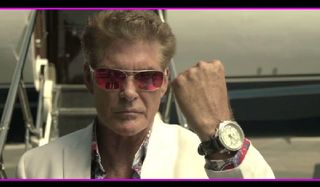 The following video is filled up with profanity. It is definitely NSFW. So, if you're at work, be mindful.
For a movie that almost never saw the light of day, Joe Carnahan's Stretch most recently found itself a new lease on life through Universal's newly budding interest in Video On Demand distribution. Since the show's back on the road, the PR machine is officially in overdrive to promote the film's digital release this fall, and in order to draw the right attention, they've chosen the right clip to show the public. Behold, the wrath of The Hoff!
The official YouTube channel for Stretch has just dropped the footage of Patrick Wilson's main character, the titular Stretch, getting reamed out by David Hasselhoff for being an hour late to pick him up. However, knowing David Hasselhoff and the air of mysticism and nutty self importance he perpetuates about himself, Carnahan has amped up the Baywatch star's natural insanity to levels that we've never seen before. And it's absolutely beautiful!
If I were to compare Hasselhoff's diatribe with any other scene in the recent history of Hollywood, I'd say that it's on par with Tom Cruise's many rants as movie producer Les Grossman in the Ben Stiller directed comedy hit, Tropic Thunder. Here is a man without a trace of irony in how he views himself, and he's seen and done some things in his day to back up just how nuts he can get. Throw in a really interesting story about a Viet Cong general being violated with a stick grenade, and you have a caricature of David Hasselhoff that ranks up there with Grossman, or even The Thick Of It's Malcolm Tucker in the terms of profanely angry goodness.
Stretch is slowly teasing what type of Joe Carnahan movie it's going to turn out to be, and from the initial peeks the powers that be have given us so far, this looks to be a movie that's more in the Smokin' Aces category of Carnahan's filmography. Between Chris Pine's Beard and David Hasselhoff's short temper, Stretch looks like it's going to put Patrick Wilson (and the audience) through one hell of a ringer. It may have had a rough road to being released, but Stretch looks like it could be another Snowpiercer sized hit on Video On Demand when it finally sees the light of day.
Stretch doesn't have a release date yet, but hopefully we'll see a full trailer that promises even more insanity than the smaller clips released thus far have given us. Though, to be fair, there's a lot of those smaller clips on the official Stretch YouTube channel, so you can always create your own trailer with the pieces laid out before you. Bonus points will be given to anyone who can make David Hasselhoff's rant into a DubStep masterpiece.
CinemaBlend's James Bond (expert). Also versed in Large Scale Aggressors, time travel, and Guillermo del Toro. He fights for The User.