Zac Efron May Star In The Baywatch Movie, Which Makes Sense Given His Handsomeness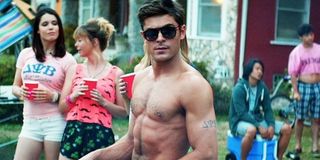 Whew, that was a close one. If you were worried about the upcoming Baywatch movie not having enough hunky dudes running down the beach in slow motion, you can breathe a little bit easier today, because all around handsome gentleman Zac Efron is reportedly in talks to join the fun in the sun.
According to The Hollywood Reporter, the High School Musical and Neighbors star will likely don those red trunks and hang out with Dwayne Johnson, saving lives on the beaches of California. Efron will play a new lifeguard who joins the team, but his impulsive, rule-flaunting ways lead to him butting heads with his older, somber, very toe-the-line supervisor, played by Johnson. But when an oil tycoon threatens to destroy the environment of their beloved beach, they have to set aside their differences and team up to save the day.
If you were hoping for a serious take on what was once the most popular syndicated show in the world, we're sorry, as they're definitely going the tongue-in-cheek comedy route with Baywatch. Horrible Bosses director Seth Gordon recently got the job helming this update, while Damian Shannon and Mark Swift, who collaborated on the 2009 Friday the 13th, are handling the script. Ivan Reitman is producing, along with Beau Flynn, who worked with The Rock on Hercules and on the upcoming video game adaptation Rampage.
This is being envisioned in the same vein as Phil Lord and Chris Miller's recent 21 Jump Street reboot, where they aim to take a show that was once popular, though dated and cheesy, and give it a comedic, self-aware remake.
Baywatch also continues a comedic career renaissance for Zac Efron. His role as a vengeful frat boy opposite Seth Rogen in last summer's hit R-rated comedy Neighbors caught a lot of people's attention in the industry. He definitely held his own, and he's putting his teen heartthrob image further and further in the rearview. The Southern California DJ drama We Are Your Friends drops later this month, and he's wrapped a couple of comedies. There's Mike and Dave Need Wedding Dates with Adam Devine, Anna Kendrick, and Aubrey Plaza, as well as Dirty Grandpa with Robert De Niro and Plaza once again. Neighbors 2 is also on the horizon, and those last three are all scheduled to hit theaters next year.
In the '90s, Baywatch was watched in 148 countries (beautiful people in minimal clothing running in slow motion translates into any language) and helped make David Hasselhoff an international phenomenon again. You just know he's going to have a cameo. It will be interesting to see how successful a comedic adaptation will be, and if they'll be able to capitalize on the global popularity of the show. You can bet that if it's successful, we're going to get a franchise out of this, but for now we'll have to wait until 2017 to see how things turn out.
Your Daily Blend of Entertainment News
Thank you for signing up to CinemaBlend. You will receive a verification email shortly.
There was a problem. Please refresh the page and try again.