Will Pan Turn Rooney Mara Into An Action Star?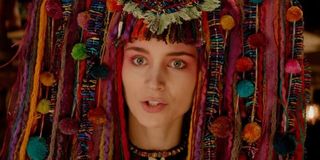 There's been a lot of talk recently about female led action movies. Just last month Emily Blunt insisted that only three or four actresses in the world are ever linked to these roles because Hollywood doesn't create enough of them. But in the case of Pan, Rooney Mara proves that she could easily become a bona-fide action star herself. But does she actually want to become one?
During the recent promotional tour for Pan, I had the chance to sit down with Rooney Mara and talk about her antics working on the Joe Wright fantasy adventure, which is a brand new origin story for the iconic JM Barrie character. I decided to ask her if, after starring in Pan, we would now see her vying for further action roles, like Captain Marvel.
And sorry to disappoint, but while Rooney Mara wouldn't completely rule out ever starring in an action film again, she was rather adamant that she won't be rushing back to do so, as she explained:
This really is a shame, because Mara plays a truly strong, powerful, and inspiring female character in Pan. With Mara's rather menacing, but still utterly beguiling features showing that she really does have the perfect presence for other action roles, young girls around the world will soon be able to look up to her as a cinematic role model.
Of course, it didn't happen overnight, as Rooney Mara did go on to reveal that she'd spent four months shooting Pan in England, where she had to go up against her co-stars Hugh Jackman and Garrett Hedlund to film some of its most exhilarating fight sequences. You can get a taste of such sequences in the film's trailer below.
Those amazing fights were one of the main reasons why Rooney Mara decided to sign up for Pan, as she admitted that she found it refreshing that the role of Tiger Lily was much more complex than the typical "damsel in distress" that usually populates fairy tale stories. Mara added:
It also helped that with Pan, unlike many of her other roles, which have included The Girl With The Dragon Tattoo, Ain't Them Bodies Saints, and Side Effects, Mara could actually star in a film that her entire family could watch without having to see her in the nude or being attacked. Something that I'm sure they don't really enjoy viewing, even if Rooney usually excels in those films on the whole.
The rest of the world will be able to watch Rooney Mara's antics as Tiger Lily from this coming Friday, when Pan is finally released into cinemas.
Your Daily Blend of Entertainment News
Thank you for signing up to CinemaBlend. You will receive a verification email shortly.
There was a problem. Please refresh the page and try again.