Hugh Jackman's Pan Trailer Packed With Pirates, Mermaids, And One Massive Crocodile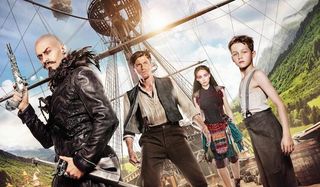 Over the years, the story of Peter Pan has been imagined, reimagined, animated, prequeled, and rendered in damn near anyway you can think of. But that doesn't mean that people are going to stop sharing their takes. Joe Wright's upcoming film, Pan, purports to be an origin story for the boy who would never grow up, and it dropped this new trailer today.
This is the adventure-filled trailer that Pan showed off at San Diego Comic-Con over the weekend, and as you can see right away, this interpretation of J.M. Barrie's beloved Lost Boy is going to be something quite different from what you've seen before.
As the voiceover says, sometimes "friends begin as enemies, and enemies as friends," and you witness something curious here: Peter Pan and the man who will become Captain Hook fighting on the same side. That's going to be an interesting relationship to watch develop, and like that bit with Hook (Garrett Hedlund), Tiger Lily (Rooney Mara), and that big ass jumping crocodile, there are sure to be a number of moments teasing Hook's eventual loss of one hand. And what appears to be a bunch of faux swearing, which makes sense given this is a family film, and one that will likely wind up with a PG rating.
Levi Miller plays this version of Peter, a 12-year-old orphan with a rebellious streak stuck in a grim, depressing London orphanage (is there any other kind?). Then one night he is whisked away to Neverland, a magical island of pirates and fairies and ferocious warriors where he searches for answers about the true identity of his mother, engages in epic duels and battles, and discovers that he's part of a prophecy that could topple the reign of the ruthless pirate Blackbeard (a crazy looking Hugh Jackman), who rules Neverland with an iron fist.
Joe Wright is a director most known for intricate costume dramas and period pieces, like Anna Karenina, Pride and Prejudice, and Atonement. While he has a definite visual eye and feel for staging, his Tolstoy adaptation illustrates that perfectly, and he has a some action on his resume with the underrated Hanna, Pan looks to be something very different from anything else he's ever attempted. From the footage we see here, this is epic and sweeping in scope and scale, and is full of elaborate visuals and tons of special effects. One of the things we're most curious to see is how he handles the size of Pan and juggles all of these disparate elements.
Pan brings the wondrous world of Neverland to life when it sails into theaters on October 9.
Your Daily Blend of Entertainment News
Thank you for signing up to CinemaBlend. You will receive a verification email shortly.
There was a problem. Please refresh the page and try again.