Patricia Clarkson Will Boss Around Brit Marling In The East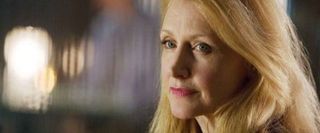 Patricia Clarkson exuded pure, icy power in her guest appearance on Parks & Recreation as Ron Swansons' IRS agent ex-wife Tammy, and apparently she liked being a terrifying boss so much that she's going to do it again, at the movies this time. Variety reports that Clarkson has signed on to Fox Searchlight's project The East, playing the head of a private contracting firm assigned to infiltrate an anarchic organization called, well, The East. The project is a reunion for Sound of My Voice director Zal Batmanglij and star/co-writer Brit Marling; the two premiered Sound of My Voice earlier this year at Sundance, where it was picked up by Searclhight. The original plan had been to release that film later this year, but I'm betting they might hold it into next spring.
As for The East, which is set to start production November 1, in addition to Marling and Clarkson the cast includes Ellen Page, Toby Kebbell and Alexander Skarsgard, who plays the leader of The East. The plot bears a very strong resemblance to that of Sound of My Voice, which starred Marling as the leader of a cult that was infiltrated by two journalists. But I actually don't think that's a problem-- Sound of My Voice is a much smaller film than what The East seems to be shaping up to be, and I like the idea of Marling and Batmangjlij taking the skills they learned making their first cult movie and applying it on the larger palette of The East. I mean, they've managed to attract the likes of Patricia Clarkson, who very rarely stars in crap-- clearly they've got something really good going here.
The distribution process for smaller movies like this can be strange, and I wouldn't be surprised to see The East premiering at Sundance 2013, well over a year from now. If we've learned anything from Marling and Batmanglij's previous work together, though, it will be worth the wait.
Staff Writer at CinemaBlend
Your Daily Blend of Entertainment News
Thank you for signing up to CinemaBlend. You will receive a verification email shortly.
There was a problem. Please refresh the page and try again.