Patrick Wilson, Liv Tyler And Matt Bomer Front Low-Budget Sci-Fi Feature
Space: the final frontier.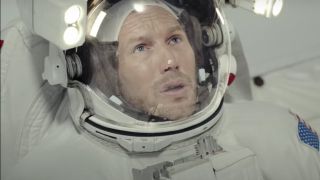 (Image credit: Lionsgate)
Space: the final frontier. In film this setting has been most often used to explore imagined versions of mankind's future for better or worse. But in the directorial debut of playwright and acting coach turned filmmaker Jack Plotnick, space—or more specifically a space station—is the setting he's chosen to explore the isolation and malaise of suburban life in the 1970s.
Space Station 76, which claims to be like The Ice Storm in space with a Ricky Gervais brand of uncomfortable comedy, is set in a version of the future that has a familiar '70s aesthetic, and Plotnick told THR:
The script was based on a play Plotnick co-wrote with some fellow actors. As a first-time filmmaker, Plotnick's budget for the film was low; however, he called on his connections from years of theater and acting coaching to wrangle a pretty solid cast that includes Liv Tyler, Matt Bomer, Patrick Wilson, Marisa Coughlan, Jerry O'Connell, Kali Rocha and newcomer Kylie Rogers.
Tyler, who has downloaded numerous tutorials and purchased books from Plotnick's website, stars as a newly appointed assistant captain on the space station whose arrival sparks conflict among the crew. Wilson plays the captain who is described as both bitter and suicidal. Bomer portrays a technician with a robotic hand, while Coughlan has the role of his manipulative wife. Presumably the rest play other crew members (human or robot), but details on their roles have not been revealed.
The film recently wrapped in Los Angeles after an under-the-radar 20-day shoot. (This means while Wilson was winning fans at Comic Con promoting The Conjuring, he was slyly hiding his latest spacey role.) There's no word yet on when Space Station 76 might land in theaters, but you can check out more about the film on its trippy website. Seriously, scope out this site. It's so strange it defies description.
Your Daily Blend of Entertainment News
Staff writer at CinemaBlend.