Peter Berg Wants Kyle Chandler And Connie Britton For A Friday Night Lights Movie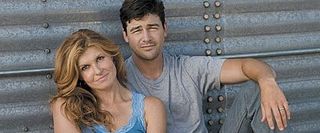 Friday Night Lights started as a 2004 movie that critics liked but not too many people saw, then was turned into a TV series that critics adored but even fewer people saw. Now could the circle complete itself with yet another movie? TVLine reports that Peter Berg, who directed the Friday Night Lights movie and was an executive producer on the series, has talked up his hopes to make another movie, this one following main characters Coach Taylor (Kyle Chandler) and Tami Taylor (Connie Britton). The news started with a tweet from Bill Simmons, who's been working on an oral history of the show, and TVLine confirmed that Berg is in fact working on the idea.
With the final episode of Friday Night Lights airing tonight on NBC, now is the perfect time for dreams of a movie version to flare up. Of course, this will be far from the first TV show to harbor such dreams-- just ask fans of Arrested Development, 24, Party Down or Veronica Mars who are still holding on to hope that they'll see their favorite characters onscreen again. Friday Night Lights seems no more or less likely than any of those shows to actually become a movie, given that it's got a devoted fanbase and, more importantly, a lot of critical support, but isn't really the kind of huge brand name that immediately inspires a studio to take notice. They've got a leg up in Berg, though, the director behind the upcoming Battleship movie who knows his way around major studio politics. We already know he's hoping to make a drama about Navy SEALs in Afghanistan-- is this another pet project he's willing to take under his wing?
Chandler and Britton are both nominated for Emmys this year for their performances on the show, which also snagged its first nomination for Best Drama Series, and it's clear they'd love to bring back the characters as much as the fans would. But given the long history of TV show-to-movie adaptations that never actually happen, is there any reason to assume this will be the one that works? I agree, it's a cruel and ridiculous thing that we live in a world with the new The A-Team movie and not an Arrested Development movie, but if it were a just world, Friday Night Lights wouldn't have its first Emmy nomination this year, now would it?
Your Daily Blend of Entertainment News
Staff Writer at CinemaBlend