Peter Dinklage And Catherine O'Hara Reteam With Penelope Helmer For Rememory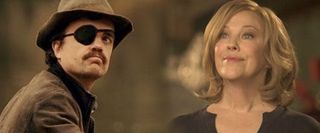 Not many may remember writer/director Mark Palansky's debut feature, Penelope, as it received mixed reviews and an unimpressive box office. And it's a shame because Palansky's modern fairy tale was spirited, charming, and filled with wacky and wonderful performances. Thankfully, after six years Palansky is soon to mount his follow-up to the feisty fable with the help of two of Penelope's stellar supporting players. Deadline reports that Palansky has signed comedienne extraordinaire Catherine O'Hara and Golden Globe-winning Game Of Thrones star Peter Dinklage to front Rememory, a tale that centers on a mind-binding mystery.
Penned by Mike Vukadinovich, the film begins with the unexpected and puzzling death of a professor the night before he was due to unveil his "life-changing invention." O'Hara will play his widow, who is left to make sense of the bizarre machine, while Dinklage will portray "an unlikely friend." Together the pair discovers that the device records and projects memories. So, they decide to use it to investigate how it led to her husband's demise. There's no specific mention of the film's genre outside of its sci-fi setup, but with the casting I'll wager it will lean toward comedy. Though with the crush-inducing Dinklage on board, I'm also hoping for a touch of romance.
Rememory will go into production in Toronto this May, but it is not the only iron Palansky has in the fire. He and Vukadinovich are also developing Cyborg, an English-language re-imagining of Park Chan-wook's South Korean romance I'm A Cyborg, But That's OK, as well as the dramedy Pete And Goat, which has Anton Yelchin and Amanda Seyfried attached. Also on tap for Vukadinovich is his 2011 Blacklist script, The Three Misfortunes of Geppetto, which is currently being developed at Fox. So pig-nosed girl aside, things are looking up for Palansky.
Your Daily Blend of Entertainment News
Staff writer at CinemaBlend.