Peter Jackson Becomes A Dam Buster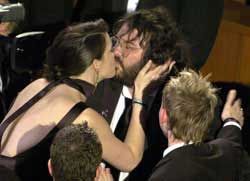 Peter Jackson is producing another movie, but not directing. The movie is a remake of a classic British war movie called The Dam Busters, and it's being directed by PJ's King Kong animator Christian Rivers.
The original movie was a product of 1954, and based on a book about the true story of how Britain developed bouncing bombs to use on German dams during World War II. There's not much you can do to update a story like that, and Jackson confirms to Screen Daily that it will be, "as authentic as possible and as close to the spirit of the original as possible".
Apparently this is one PJ has been interested in for a long time. He first started exploring a possible remake back in the 90s when he was working on securing the rights to Lord of the Rings. Just thing, we could have had a movie about exploding super-balls instead of the three greatest films of the past ten years.
But Peter says that like King Kong, he's loved this movie since he was a kid. Since (in theory) he's still intent on making Lovely Bones his next directing gig, he's turned the job over to someone else.
The Dam Busters is due to start shooting next year with a solid budget of $50 million. They're shooting in Wellington, and plan to use 10 full-scale replicas of the original Lancaster bombers used in the 1943 raid that's the movie's focus. Now that's just cool.
So how does this affect Peter's other projects? Halo for instance? He says not at all. He tells The Dominion Post that both Halo and Dam Busters will likely end up being shot at the same time. So that means pencil Halo in for a start date early next year as well. Lovely Bones is still a ways down the road.
Your Daily Blend of Entertainment News