Peter Jackson Considering Gallipoli Film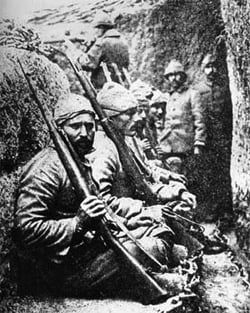 With the generally negative buzz surrounding Peter Jackson's handling of The Lovely Bones, we may soon find out that touching drama may not be his thing. The good news is that he's considering putting together a film chronicling the most famous battle in Aussie/New Zealander history, Gallipoli. It would put him back behind a big, sweeping epic with gritty action, great effects, and an all-around feeling of awesomeness, all of which are DEFINITELY his thing.
In an interview with New Zealand's 7.30 Report, Jackson speaks of the WWI battle between the Turks and the ANZAC (Australian-New Zealand) forces with a lot of passion, not only because it's such a rich piece of his homeland's history, but he also mentions that his grandfather was there. Peter Weir put together a film in 1981 about the encounter, but it is more focused on a couple of young soldiers whereas Jackson wants to broaden the scope and tell the full story of the eight month campaign against the crumbling Ottoman empire.
With his plate near full for the next couple of years with The Hobbit (which he's producing, but will surely be closely overlooking) there's no definite plan for Jackson to tell the harrowing tale of the ANZACs just yet. However, his mention of the fast approaching 100th anniversary of the confrontation at Gallipoli may indicate just when he's planning on having this film ready for release: April 25th, 2015. Seeing Jackson at the helm of something this epic again is something the film world is itching to see, so keep your fingers crossed and express your enthusiasm in the comments below.
Your Daily Blend of Entertainment News