Peter Weir Up For Jennifer Egan's The Keep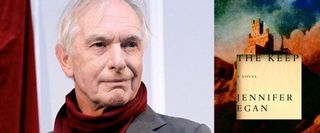 Be it the high seas adventure Master and Commander: The Far Side of the World, the high-concept comedy The Truman Show, or the rousing school-set drama Dead Poets Society, director Peter Weir is known for helming ambitious productions that pack an emotional wallop. But could he be biting off more than he can chew with his next project?
Variety reports Weir is attached to direct an adaptation of Jennifer Egan's bestselling novel The Keep for Said Ben Said productions. The gothic thriller focuses on the complicated relationship between two estranged American cousins, who reluctantly decide to work together to renovate a European castle into an "alternative resort" venture. Leaving behind the life they know—and ignoring the shared past they'd rather forget—they delve into the depths of the keep, where they discover secret passages, strange inhabitants and a dark history that could destroy them both.
It's a compelling concept, and Weir's shown a great ability with genres in various settings, but The Keep adaptations have been bouncing around since Rogue Pictures bought The Ring scribe Ehren Kruger's adapted screenplay in 2008. Two years later, CBS Films had bought the rights, and was prepping The Keep with The Girl With the Dragon Tattoo director Niels Arden Oplev on board to helm. At the time, THR described Kruger's treatment as "The Ring meets Inception," which—as I admittedly haven't read this book—is a mash-up too dizzying to make much sense to me, though it still sounds enticing.
However, that production never came to pass, and now SBS is starting from scratch. Egan is out and Weir is now scripting the screenplay. The Paris-based production company is currently securing financing, but expects to make the feature for around $30 million with aims to shoot in Europe or Australia. With so many puzzling elements being leaked over this adaptations troubled development, it's impossible to know what to expect from The Keep, but with Weir attached as writer and director, it seems this thriller may at long last secure a start date.
Staff writer at CinemaBlend.
Your Daily Blend of Entertainment News
Thank you for signing up to CinemaBlend. You will receive a verification email shortly.
There was a problem. Please refresh the page and try again.