Pirates Of The Caribbean 5 Bringing Back One Key Character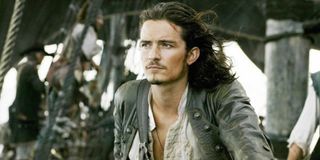 Every year the D23 Expo, an event for all the ultimate Disney fans, an abundance of Disney-flavored news is dropped at our footsteps. As our own Eric Eisenberg is reporting right from the floor, we've learned a number of exclusive details on upcoming projects. And during the lengthy live-action panel Pirates of the Caribbean 5 took center stage to announce the news of a key character's return--none other than Will Turner.
Will Turner played a particularly important role in the early days of Disney's Pirates of the Caribbean franchise. Alongside Johnny Depp and Keira Knightley, Orlando Bloom's character Will Turner was one of the key pieces to the first installment of the franchise. The three were front and center, and as the years rolled on, and more movies came out, Bloom showed up in following two sequels Dead Man's Chest and At World's End, but was left off the casting ticket for the one that followed. Now it seems that Pirates of the Caribbean is making room for the quiet Will Turner, or should we say, Orlando Bloom is making room for Pirates of the Caribbean as was confirmed during the live-action panel at D23.
A little less than a year ago, Orlando Bloom was actually prompted about the upcoming Pirates 5 and his potential involvement, to which Bloom surprisingly answered his openness to it. At first it was hard to dissect the quote, was Bloom just being respectful to a franchise that did him well for his earlier years, or was he really aching to get back in his pirate gear? Well, looks like Bloom wasn't kidding when he said there were discussions, as the fan-favorite blacksmith-turned-pirate will be heading back to the franchise.
Orlando Bloom's last reprisal of Will Turner in At World's End saw him bound to the sea, forced to sail as the Dutchman's captain. It's a bittersweet ending with Will thankfully alive, but unfortunately bound to the ship, unable to be with Elizabeth. In a post credits scene, it shows Elizabeth and her son, ten years later atop a cliff as the Dutchman appears in the distance with Will aboard. It is said that the captain of the Dutchman is eternally bound to the ship and can only step on land once every ten years. So whether Will was only there to see Elizabeth for a day, or was able to somehow beat his final fate, hopefully we'll be able to find out in the upcoming fifth installment to the franchise.
Dead Men Tell No Tales will also see the return of Johnny Depp's Captain Jack Sparrow, but no word on whether Keira Knightley will be reprising her role as Elizabeth Swan, though the actress has previously stated she was done with the franchise. Javier Bardem will portray Captain Salazar, the antagonist of the feature and Geoffrey Rush will return as Captain Barbossa. Pirates 5 is scheduled to release in theaters July 7, 2017.
Your Daily Blend of Entertainment News
Thank you for signing up to CinemaBlend. You will receive a verification email shortly.
There was a problem. Please refresh the page and try again.