Pirates Of The Caribbean: At World's End Was The Most Expensive Film Of All-Time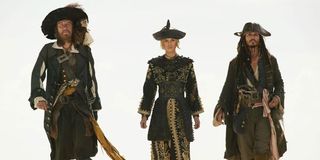 Hollywood accounting is a riddle some of us can never solve. A movie's released budget is usually inaccurate (if it's released at all), and it doesn't take into account the massive marketing costs necessary to get a film out to the public. As a result, you can't really trust a number being thrown around as an "official budget" unless it's coming from someone who has a little bit of financial knowledge and trickery going on behind the scenes - which is why when the Business Insider announces that Pirates Of The Caribbean: At World's End is the most expensive film of all time, there might be something to that.
Business Insider has compiled information from around the net, combined the information with inflation measurements and a closer look at studio finances, and has discovered that the second Pirates Of The Caribbean sequel was the costliest film ever made. At $341.8 million before prints and advertising, it just barely tops the $339.5 million used by 1963's Cleopatra (which cost a then-preposterous $44 million). Not only does At World's End come in with that obscene total, but Pirates Of The Caribbean: Dead Man's Chest rings in just below it at $263.7 million. It's unclear where Pirates Of The Caribbean: On Stranger Tides is on this list, considering the tally for that film was reportedly $250 million, but even that movie would represent something of a savings for Disney. They used to film movies back-to-back to save money. How much was saved by spending $604 million on the combined production of Dead Man's Chest and At World's End? No wonder Pirates Of The Caribbean 5 is still stuck in port!
Sam Raimi's Spider-Man also makes repeated appearances on the list. Spider-Man 3 rings in right under Titanic with $293.9 million, while Spider-Man 2 comes in at $250.1 million. But the webslinger is far from the only superhero to make the list. Other titles include The Dark Knight Rises ($257.2 million), X-Men: The Last Stand ($241.1 million), Superman Returns ($244.9 million), Man Of Steel ($228.9 million) and The Avengers ($226.4 million).
Among the surprises, it seems odd that Disney's Tangled would land so high up there, posting at #5 with $281.7 million. The most expensive animated film of all time "only" made $592 million at the box office, so there go your questions about a Tangled 2. But it could have been worse. A number of these films are money losers, including the $257.2 million-pricetag-wearing John Carter , and the $241.1 million-budgeted Wild Wild West. You can check out the top 10 below, and head over to Business Insider to see the full list:
1. Pirates of the Caribbean: At World's End (2007) - $341.8 million
2. Cleopatra (1963) - $339.5 million (Original estimated budget: $44 million)
3. Titanic (1997) - $294.3 million
4. Spider-Man 3 (2007) - $293.9 million
5. Tangled (2010) - $281.7 million
6. Harry Potter and the Half-Blood Prince (2009) - $275.3 million
7. Waterworld (1995) - $271.3 million
8. Pirates of the Caribbean: Dead Man's Chest (2006) - $263.7 million
9. Avatar (2009) - $261 million
10. The Hobbit (2012) - $257.2 million
Your Daily Blend of Entertainment News