Pixar Has A New Foodie Easter Egg That Appears In Multiple Films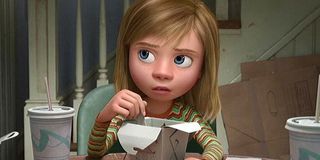 Pixar's Inside Out is currently riding stunning success box office success, despite continually falling short of the top spot thanks to the monstrous momentum of Jurassic World. Despite the studio's rather unconventional approach to its new feature, there are a number of things that cement its place in their colorful continuity. Notable among these features: Chinese takeout containers.
Speaking with Yahoo, Ronaldo Del Carmen, who co-directed Inside Out with Peter Docter, reveals that the film is brimming with hidden content that hearkens back to a number of the studio's previous offerings. However, the most prominent amongst those are the depiction of a sight that's quite familiar to eagle-eyed Pixar obsessives in the usage of Chinese takeout containers, formally known as oyster pails. Showing up quite prominently in Inside Out, it seems that a delicious, ergonomic star has been born that remarkably carries our orders of pork fried rice.
Yes, that's right, those magnificent wonders that have been uniformly used for ages by takeout places around the world have actually become quite the signature Easter Egg for Pixar productions. In Inside Out, they appear prominently in multiple instances across the dinner table as the film's subject, Riley, sits with her family, felling unimpressed by the meal and clearly troubled by her family's recent move to San Francisco. As the family digs into their dinners straight out of the boxes off a folding variety, the scene represents, from Riley's young perspective, the dissolution of her old life.
While there's nothing exceptionally interesting about the takeout boxes in question (pictured above, up close), the seemingly generic design they sport, showing red ink artwork of a pagoda with some Chinese characters, is actually just the latest manifestation of such imagery. In a deceptively clever method that has become another signature aspect of Pixar's storytelling strategies, each depiction of the boxes somehow manages to help indirectly complement the state of each film's characters. As mentioned, they represented an unwanted transition for Riley in Inside Out, but the themes have varied in the usage of the boxes over the years.
We first caught a glimpse of the destined-to-be recurring food container theme in 1998's A Bug's Life, when Manny the praying mantis used one as part of his magic act as the "Chinese Cabinet of Metamorphosis." We later saw it in 1999's Toy Story 2 inside the run-down Pizza Planet delivery truck. In 2001, it surfaced for third time in Monsters Inc., seen with a slightly varied design in Harryhausen's restaurant. Afterwards, the boxes would make another appearance in 2007's Ratatouille, with multiple boxes shown inside of Alfredo's refrigerator in a scene that conventionally screams "single guy alert."
It's hardly a profound, context altering discovery that makes one inclined to go back and re-watch all these films. Rather, it's just an example of the kind of fun that the creative maestros at Pixar enjoy when they're not (figuratively) thrusting their hands violently into our chests to rip out our hearts and inject tear-inducing emotional stimuli strategically Trojan-horsed into colorful kid's films.
Undoubtedly, the rather innovate approach to their current smash, Inside Out, provides almost as much wonder to audiences as the eternal question of how the TARDIS-like Chinese takeout containers can hold SO much food in so little space. Catch it at theaters now.
Your Daily Blend of Entertainment News