That Plan To Open Point Break Early In China Is Working Really Well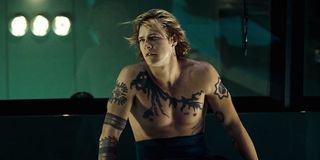 In the glut of movies hitting theaters around Christmas—a list that includes a new Star Wars movie, Quentin Tarantino's latest western, and Leonardo DiCaprio fighting a grizzly bear, among others—it's been easy to lose sight of the impending Point Break remake. Many expect the action flick to be swallowed up by the Star Wars: The Force Awakens juggernaut, but the studio has a strategy to help combat this, and it involves opening the movie early in China, which seems to be working out rather well.
China has become an increasingly key part of the Hollywood money making machine in recent years, to the point that Warner Bros. and Alcon Entertainment already opened Point Break there, three weeks ahead of its domestic release. According to The Hollywood Reporter, the remake of Kathryn Bigelow's 1991 action classic opened to a solid $12.1 million over its first three days, finishing second in the Chinese box office race to Ridley Scott's The Martian.
With a reported budget of $120 million, Chinese marketing for the Point Break remake, handled by DMG Entertainment, has largely revolved around the massive daredevil stunts. The original features surfing, skydiving, and similar extreme sports activities, and the do-over is taking those elements and cranking them up to the proverbial eleven. There's still skydiving and surfing, but amplified even further, and they throw dangerous motorcycle stunts, base jumping, snowboarding, and more just to up the ante.
Opening early in China looks to be a shrewd business movie for the studios, especially as earnings for The Martian begin to decline since it's been out for a few weeks already. Chinese regulations block out most of December, one of the seasons of the highest theater traffic, for Chinese-only new releases—that's why Star Wars: The Force Awakens won't open there until January. As a results, Point Break will be the only big new American blockbuster in action until into 2016, effectively cornering the market. In fact, it won't really fact any substantial roadblocks until December 18, when Mojin—The Lost Legend, an epic Chinese fantasy film opens.
This is a bold move on the part of the studios, but one that could potentially pay big dividends. Point Break will have the market mostly to itself for almost an entire month, and with a hefty price tag, not to mention stiff competition around the world, they'll need every advantage they can grab.
Point Break opens in the U.S. on Christmas Day.
Your Daily Blend of Entertainment News
Thank you for signing up to CinemaBlend. You will receive a verification email shortly.
There was a problem. Please refresh the page and try again.