Princess Leia And Boba Fett Are Game For Star Wars: Episode VII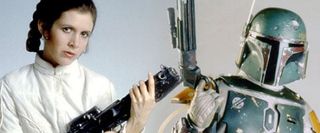 Shortly after Disney bought Lucasfilm and announced plans for three new Star Wars movies, the original trilogy's stars were approached about their involvement. Not by Disney—as far as we know—but certainly by the press.
First came word that Harrison Ford, who made vests look macho as Han Solo, would possibly be interested in returning the franchise. And now his onscreen lady love Carrie Fisher as well as Jeremy Bulloch, who played fan favorite Boba Fett in Episodes V and VI, have affirmed they would each be happy to return to a galaxy far far away.
TMZ caught up with Fisher earlier this week at the Los Angeles International Airport, and took the opportunity to ask her how she felt about being a Disney princess ("Fantastic, [it] made my day") and whether or not she'd consider a role in the upcoming trilogy, to which she responded matter-of-factly, "Yes, sure. Wouldn't you?" You can see her responses for yourself in the vid below:
Unleash the Fanboy (via io9) tracked down Bulloch for a brief interview, and while he expressed "shock" about the latest development in the franchise's expansion, but admitted, "I always felt that there was more of a story to tell after Return of the Jedi, and always hoped that they would go back and do an Episode VII."
Asked if he has hopes for his bounty hunter character to be brought back—despite his apparent death in Return of the Jedi—Bulloch is adamant, saying:
It's thrilling to see so much of the old gang is willing to get involved again, but with no idea at present on which direction Disney will take the franchise, it's impossible to guess the likelihood of what characters or cameos might appear in Episodes VII through IX. However, it is worth remembering that once Disney bought out Marvel's studio they maintained the latter's tradition of including a Stan Lee cameo in his superhero's movies, as he is spotted in the newscast montage at the end of The Avengers. While it might prove too tricky to have Han and Leia reprise their roles, it seems like it would be pretty easy to grant Bulloch his suggested cameo, and the legions of Fett fans would be sure to appreciate it.
Your Daily Blend of Entertainment News
Staff writer at CinemaBlend.