This Probably Is How The Fantastic Four Will Get Their Powers In The Reboot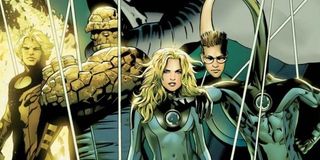 Josh Trank's upcoming Fantastic Four reboot continues to be a complete mystery. While big comic book movie productions like The Avengers: Age of Ultron and Batman v Superman: Dawn of Justice have to deal with all kids of paparazzi spy photos from the set, the 20th Century Fox film managed to slip in and out of production without drawing too much attention, and we have yet to actually hear any details regarding the film's plot. With the film not out until August of next year, it may still be a little while before anything is officially confirmed, but for now we can subsist on the rumors that keep trickling in.
Take, for example, this new report from Schmoes Knows, which claims to have information about the Fantastic Four actually become the Fantastic Four in the new Fantastic Four movie. According to the site's source, Reed Richards (Miles Teller), Sue Storm (Kate Mara), Johnny Storm (Michael B. Jordan) and Ben Grimm (Jamie Bill) will be getting their powers due to a lab experiment that winds up going terribly awry. They are working on a portal that can access another dimension, but when they go through they wind up changed on the other side, gaining the superpowers that they are famous for in the comics.
Those of you who are familiar with the Ultimate Fantastic Four comics probably feel your spidey senses tingling right about now - and that's because this origin is basically ripped straight from what was done in that run. Just like the rumored plot, that version of the team had Reed Richards doing experiments with the Negative Zone and bringing his friends along for an inter-dimensional ride. Unfortunately, Victor von Doom (the future Doctor Doom) screws with the calculations a bit, which is how the Fantastic Four wind up changing. This is a very different introduction than what was featured in the original run of the comics or Tim Story's Fantastic Four film from 2005, but that would be a very good thing for a reboot to do, right?
Adding to their scoop, the new report also says that The Fantastic Four is going to be "VERY character-driven." Rather than just being all about the action, instead the movie plans of really taking a close look not only at the relationships between the central team of heroes, but also their connection with Victor (who will be played by Toby Kebbell). Obviously this is far from a confirmation and every bit of this "news" should be treated with a grain of salt, but it certainly would be an interesting direction for the project.
Co-starring Reg E. Cathey (as Johnny and Sue's dad, Dr. Franklin Storm) and Tim Blake Nelson (as Harvey Elder a.k.a. Mole-Man), The Fantastic Four is now in post-production and will be in theaters on August 7, 2015.
Your Daily Blend of Entertainment News
Assistant Managing Editor
NJ native who calls LA home and lives in a Dreamatorium. A decade-plus CinemaBlend veteran who is endlessly enthusiastic about the career he's dreamt of since seventh grade.