Project X Is Getting A Sequel With A Pretty Obvious Title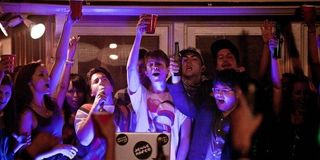 In an unsurprising move, a sequel to 2012's Project X has been ordered because of the fact that the original made a ton of money off a nothing budget. But rather than breaking the mold with the title for the follow-up, those involved simply decided to name it Project XX. Which, while pretty obvious, suggests that the raunchy comedy will pick-up right where the original left off.
The Wrap were the first to report that the Todd Phillips-produced sequel is currently in pre-production. At the moment though we're still not sure if either the film's trifecta of stars (Thomas Mann, Oliver Cooper, and Jonathan Daniel Brown), its director Nima Nourizadeh, or its writing team of Matt Drake and Michael Bacall will return. However, the last details we had on the sequel suggested that Bacall had been asked to write a draft of the script.
Project XX has actually been a long time coming. Back on March 6, 2012, just four days after Project X started its impressive march to a $102.7 million box office total, against a $12 million budget, it was announced that the studio would create a sequel. At this point it was also confirmed that Bacall had actually been asked to write a draft several weeks before Project X was released because the studio predicted it would be a hit.
Since then, though, we've not heard a peep. Until now. And despite the fact that it's been over three years since Project X partied its way into hearts, Warner Bros. is still clearly confident that it can excel, even if they do decide to bring in a brand-spanking new cast and crew.
One of the reasons for their confidence is Todd Phillips. The franchise's producer has a rather sterling track record of being completely in sync with what young moviegoers want to see on screen. Not only did he write and direct the likes of Road Trip, Old School, and Due Date, but he brought the hugely successful Hangover trilogy to life, which helped to propel the careers of Bradley Cooper, Ed Helms, and Zach Galifianakis into the cinematic stratosphere.
But what are the chances that the film's director and leading cast will return? Well, Nima Nourizadeh, who made his feature film debut with Project X after directing a plethora of adverts and music videos, is currently putting the finishing touches to his follow-up, American Ultra, which stars Jesse Eisenberg and Kristen Stewart. If that tanks then he might decide to return to the warm bosom of Project X, however if it succeeds then he could see the sequel as a step back.
Meanwhile, Thomas Mann's performance in the Sundance hit Me & Earl & The Dying Girl earned him rave reviews that could send his career into more serious terrain, Oliver Cooper has mostly been appearing in television roles, and Jonathan Daniel Brown has only popped up in minor roles in Bad Milo and Kid Cannabis since. Basically, the latter two would probably benefit from starring in the sequel, while Mann will have to think a bit longer and harder about his options. Either way, Project XX is due out on August 19, 2016.
Your Daily Blend of Entertainment News
Thank you for signing up to CinemaBlend. You will receive a verification email shortly.
There was a problem. Please refresh the page and try again.