Project X Star Thomas Mann Joins Supernatural Romance Beautiful Creatures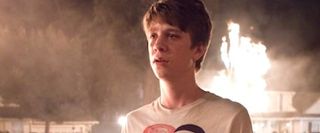 With the inevitable talk of a Project X sequel starting up, that movie's stars may find themselves busy once again playing high schoolers before they know it. So before Michael Bacall can finish his treatment for Project X 2, star Thomas Mann is smart to move on to something different-- very, very different. Variety reports the 20-year-old actor is in negotiations to join Beautiful Creatures, a teenage romance already set to star Jack O'Connell and Alice Englert as star-crossed lovers who uncover the dark secrets of their families and the town they live in.
With the leading man role already filled, Mann would play the best friend, "who's fond of both music and magic"-- you know, like any other teen. If all of this sounds a little silly, keep in mind that Viola Davis, Emma Thompson and Shameless star Emmy Rossum are also set for roles, adding a little bit of prestige to what might seem like a Twilight knockoff. Indeed, the movie will be adapted from a popular series by Kami Garcia and Margaret Stohl, and Rossum is playing a witch who is an enemy to the romance. No vampires seem to be in sight, but as we live in an era where "paranormal teen romance" has its own section in Barnes & Noble (opens in new tab), this all seems about par for the post-Twilight course.
Beautiful Creatures starts shooting next month in New Orleans, giving Mann plenty of time to knock out that project before probably returning for Project X. He wasn't exactly a standout in that teen party movie, but he held his own, and I have to assume that when playing a character better written and less pitiful than his character in Project X, he might have some strong potential. At the very lest, thanks to the huge surprise hit of Project X, he's got a ton of bright career options ahead of him.
Your Daily Blend of Entertainment News
Staff Writer at CinemaBlend