The Purge: Breakout Escape Game Invites You To Survive The Night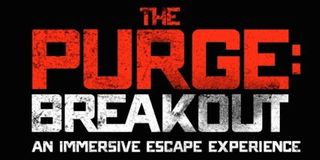 Who's ready for The Purge? Not quite? Well, Universal's giving you an opportunity to prepare with their planned immersive experience "The Purge: Breakout," which is set to tour the country, starting later this month, and may be coming to a city near you.
Those familiar with the concept from the original film and the upcoming sequel The Purge: Anarchy know that the fictional "Purge night" is an annual event created by the New Founders of America, set in the near future, where citizens are encouraged to "purge" their violent tendencies. For a 12-hour period, all crime (including murder) is legal. For some, the streets become a playground of chaos, offering opportunities for violence and vengeance. Others would prefer to stay indoors, locked away from those looking to exercise their right to purge.
In anticipation of The Purge: Anarchy, Universal is touring this escape game, The Purge: Breakout, which will have participants working in groups to solve increasingly complicated mind-bending puzzles and clues, in an effort to escape the game, which is set up 30 minutes before the start of "The Purge." What happens to people who don't best the game before The Purge begins? We can only guess!
Here's the list of dates and cities for "The Purge: Breakout" tour:
Atlanta - May 29 - June 1
Miami - June 5 - June 8
New York City - June 13 - June 15
Philadelphia - June 19 - June 22
Chicago - June 28 - June 29
Dallas - July 3 - July 6
Los Angeles - July 11 - July 20
Tickets for the game cost $20, and the fine print states that anyone under 18 must be accompanied by an adult (and they strongly discourage participation of anyone under the age of 13). Visit ThePurgeBreakout.com for information on how to get tickets.
"The Purge: Breakout" sounds like something that would be included in Universal Studios' Halloween Horror Nights. In fact, it looks like The Purge was included in last year's Halloween Horror Nights event with "The Purge: Survive the Night" listed among the scare zones. But "The Purge: Breakout" sounds like it'll have a different setup than that one. That said, perhaps Universal will consider adding it to the 2014 Halloween Horror Nights this fall. We'll have to wait and see. As of right now, "Breakout" seems specifically set up to boost awareness and anticipation of the sequel that's headed into theaters this summer.
In the meantime, The Purge is coming! Well, the sequel is, anyway. While the first Purge film focused most of its story on the happenings inside the house of a wealthy family trying to avoid the mayhem outside, The Purge: Anarchy takes the big event to the streets, where we expect to see much more of what goes on during this chaotic event. Directed by James DeMonaco, The Purge: Anarchy arrives in theaters July 18. Check out the latest trailer here.