Radha Mitchell Joins Silent Hill 2, But Isn't Starring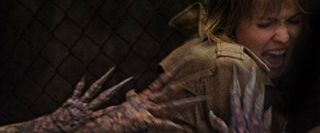 Last week when we first started hearing about the upcoming Silent Hill sequel here, there was no mention of Radha Mitchell even though her Silent Hill co-star Sean Bean was already in negotiations to join the film. In fact they'd already cast Adelaide Clemens and Kit Harington to be the movie's other leads, which left us wondering whether Radha was in their plans at all. Here's the definitive answer to that: She's in.
Silent Hill: Revelation's production company Davis Film announced today that Silent Hill originals Radha Mitchell and Debra Kara Unger have now been added to the cast. It's not entirely clear at this stage what role they'll play in the sequel, but the Davis characterizes them as a "compliment" to "Revelations stars Adelaide and Kit." Don't be surprised if Mitchell and Unger aren't in for much more than a cameo.
Revelations is still based on the survival-horror game franchise of the same name. Like every horror movie with any reasonable budget behind it, Silent Hill: Revelations will be released in 3D. It's being shot with the 3D Red Epic camera, which should mean it won't suck as much as Final Destination 3D did, though it might be a bit much to expect this to reach the ridiculously fun 3D heights of Resident Evil: Afterlife.
Your Daily Blend of Entertainment News