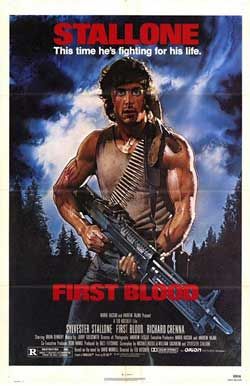 Look what we did! We gave Sylvester Stallone his career back by supporting re-hashed stories from 30 years ago. Now, Stallone has delusions of grandeur as he plots Rambo 5. According to some forum poster, on some private Stallone fan forum (StalloneZone), Stallone mentioned that Rambo 5 would be a modern-day western set in Mexico (where women are being abducted) and begin filming next year during a press junket in Japan for Rambo 4.
Here's an idea. The next time we want to relive the glory days of Rambo or Rocky, let's spin the DVDs sitting on our shelves instead of supporting Stallone's pipe dreams, which apparently come true (Rambo 4?, Rocky Balboa?). Granted, some kid on a forum probably isn't the most reliable source. Frankly, this one's probably bunk, but the fact that Stallone is going to run his famous characters into the ground isn't. Until Rambo and Rocky go into space, I don't want to hear it.
Your Daily Blend of Entertainment News
Your Daily Blend of Entertainment News
Thank you for signing up to CinemaBlend. You will receive a verification email shortly.
There was a problem. Please refresh the page and try again.