Re-Animator Director Developing Cannibalistic Taste For Stage And Screen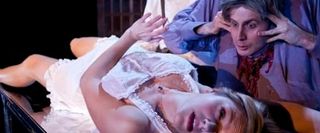 Stuart Gordon, the writer-director of the 1985 adaptation of H.P. Lovecraft's Re-Animator and the ensuing stage musical, is busy developing Taste for the theatre. The play is based on the true story of the Rotenburg Cannibal, Armin Meiwes, and will focus on the headline making (not to mention recorded) dinner with/of Bernd Jürgen Brandes. Meiwes became famous for killing and eating the willing victim he solicited on the internet and Variety is reporting that Gordon plans to shoot a feature film version after the play's first run.
Gordon is currently casting the play and plans to use the same actors for the feature film version produced by his Red Hen production company in partnership with Adam Goldworm Aperture Entertainment. The pair will finance the 'micro-budget project' themselves with Benjamin Brand set to adapt his own play for the big-screen. Or VOD (that's just my guess). Brand's previous credits include a small indie called November, starring Courtney Cox, as well as a few episodes of the short-lived IFC series Bollywood Hero.
For those unfamiliar with the story, Armin Meiwes placed an ad on 'The Cannibal Cafe' (you got to love the internet) seeking, in his words, "a young well-built man, who wanted to be eaten." After several people responded to the ad (again, way to go internet) they all eventually backed out until Bernd Jürgen Brandes joined him for the lovely evening. The details from here on out are pretty disgusting (that seems obvious but trust me, it's even worse than you might think) so I'll save the specifics for those who wish to see it unfold on stage or in the future feature film.
Variety spoke with Gordon, who said, "It's rare that real horror is done onstage. Re-Animator the musical is more comedic than scary. But Taste may cause people to actually pass out or lose their lunch in the theatre." I know that's what I want in a theater experience, a vomit filled auditorium. Wear a poncho. I just hope they come to their senses and rename the play (Taste is horribly generic) after the cannibal's other moniker... 'Der Metzgermeister.' It means 'Master Butcher' but the German sounds way better.