What American Ultra Is Actually About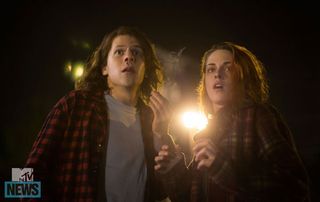 In true stoner fashion, the upcoming cannabis-centric cinematic slacker project, American Ultra missed a more apropos 4/20 unveiling of material by nearly a month. However, more details about its plot have now finally been revealed. The main cast, reuniting Adventureland couple Jesse Eisenberg and Kristen Stewart, apparently looks to be going on a baked, genre-bending romp.
In a report by MTV News unveiling the first image and posters from the film, a rundown of the movie's plot is also provided, setting up the crazy adventure. American Ultra features Jesse Eisenberg's Mike as, you guessed it, a slacker/stoner type wandering aimlessly in a weed-fogged ambivalence. The only thing he has going in his life, besides a ton of THC, is his girlfriend, Kristen Stewart's Phoebe. However, in a bizarre call to the hero's journey that even Joseph Campbell couldn't have possibly imagined, Mike discovers that he was actually a sleeper agent trained in a secret government program. Soon finding himself an inconvenient loose end by some belligerent bureaucrats, he makes off like a baked Jason Bourne and finds himself on the run with Phoebe at his side.
Yes, it appears that Mike could be the first stoner in history whose paranoid inclination that the government is out to get them is, indeed, accurate. The film's apparent genre-blending stylistic ambitions also seem to fit the creative team perfectly. Director, Nourizadeh, whose 2012 film, Project X used a title that made us mistake it for a film about Matthew Broderick and a test chimp, would showcase an inventive (though divisive) take on the teen party movie genre. Additionally, the script was penned by Max Landis, who wrote the screenplay for 2012's quasi-vérité "teens with superpowers" film Chronicle. Thus, we can probably expect more stylistic experimentations than the ones to which we've already been apprised.
In an interview with MTV, American Ultra director Nima Nourizadeh also dished on the details regarding his upcoming stoner story, revealing some surprisingly stylistic turns. While stars, Eisenberg and Stewart, as characters Mike and Phoebe, are portraying young love with a Pineapple Express sort of flair, they also seem to be carrying a deeper human element to their insane story. Nourizadeh depicts the film as a dark comedy, as he states:
It does sound as if Nima Nourizadeh is attempting to cobble together traditionally disparate elements into an ambitiously inventive film that hides behind its unassuming stoner vibe. Considering that American Ultra will only be his second film, this kind of ambition speaks volumes. However, it will be interesting to see if those ambitions pan out successfully or leave him biting off more than he can chew.
The film also features an impressive supporting cast that includes Walton Goggins, Bill Pullman, Connie Britton, Tony Hale and John Leguizamo. American Ultra lights itself up at the theaters (where no smoking of any kind is allowed,) on August 21st.
(Photo courtesy of MTV)
Your Daily Blend of Entertainment News
Your Daily Blend of Entertainment News
Thank you for signing up to CinemaBlend. You will receive a verification email shortly.
There was a problem. Please refresh the page and try again.