The Jem And The Holograms Movie Has Found Its Rio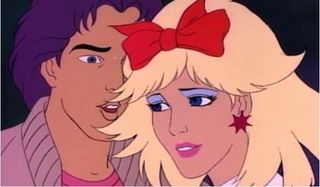 Jem and the Holograms is getting the live-action movie adaptation treatment. But who has the charisma to bring to life the adored 1980s cartoon characters? Hot on the heels of casting the film's title roles, Jem and the Holograms' producers have unveiled their leading man. His name is Ryan Guzman, and you can get a glimpse of him in the above video.
THR reports Ryan Guzman has joined Jem and the Holograms as Rio Pacheco, the road manager/technical engineer/love interest to Jem. Here's a side-by-side comparison of Rio and Guzman.
The original animated series on which Jem and the Holograms is based centered on Jerrica Benton/Jem, a young woman with a wild double life. By day, she's Jerrica, a responsible and caring businesswoman running Starlight Music and the Starlight House orphanage. By night, she's Jem, lead singer of the rock band Jem and the Holograms. But in the movie's revamped version of her story, Jerrica is an orphaned teen girl who is launched into stardom when her music is shared online and goes viral. This reconceived Jem and the Holograms is the brainchild of music producer Scooter Braun, movie producer Jason Blum, and executive producer of Step Up Revolution and director of G.I. Joe: Retaliation, Jon M. Chu.
Step Up Revolution is actually an important tie-in to Jem and the Holograms, and not just because it's a modern-day musical. It was also the first starring role and film debut of (you guessed it) Ryan Guzman. In the film, Guzman plays a blue-collar heartthrob, but more to the point, he dances. This might suggest that Rio will get in on the song and dance Chu has planned for Jem and the Holograms.
You can see Guzman in action below, in this clip from Step up Revolution:
Following Step Up Revolution, Ryan Guzman appeared in the little-known action movie April Rain before landing a recurring role as Ryan on the drama series Pretty Little Liars. But even with an upcoming appearance in Step Up: All In, where he'll be reprising the role of Sean, Jem and the Holograms could be the project that actually launches Guzman. After all, it's already getting tons of attention online, thanks in part to the production's Tumblr that has been sharing inspirations, fan art, and production announcements.
Guzman joins a cast made up of up-and-coming actresses. Sharknado's Aubrey Peeples stars as Jem. Stefanie Scott of TV's A.N.T. Farm plays Kimber. A House Is Not A Home's Aurora Perrineau is set for Shana, while The Fosters' Hayley Kiyoko will portray Aja. Check out the teaser poster below:
You know what this means, right? Next up to be revealed is the casting of the rival bad girls band, The Misfits.
Staff writer at CinemaBlend.
Your Daily Blend of Entertainment News
Thank you for signing up to CinemaBlend. You will receive a verification email shortly.
There was a problem. Please refresh the page and try again.