The Ring Is Getting A Prequel, Get The Details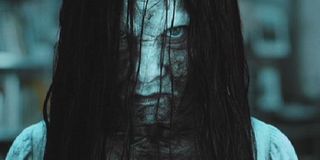 While there has been some suggestion that it would wind up being either a spin-off or a reboot, it turns out that the recently announced addition to the Ring franchise, titled Rings, is actually going to be a prequel.
According to Blooding Disgusting, Rings will be set before the actions of the 2002 American remake, while it will also have the added bonus of being a 3-D film too. Whether that's actually a positive is still very much up for debate, though. The source also revealed that Rings will revolve around the years before the dreaded VHS tape was actually created, and it will explain how Samara was able to begin her spooky antics.
The Ring was an American remake of the 1998 Japanese horror flick Ringu. Directed by Pirates of The Caribbean: The Curse of the Black Pearl's Gore Verbinski - who used the success of this film to turn himself into one of Hollywood's go-to blockbuster directors – it starred Naomi Watts as Rachel Keller, a journalist investigating the death of her niece who stumbles upon a tape. After watching said tape she is told that she will die in seven days time and she goes through a variety of surreal and paranormal activities. In the film, Rachel researches into the origins of the cursed VHS, tracing it back to a horse-breeding family and the antics of the aforementioned Samara, a seriously messed up little girl. Exactly how much Rings will go back over this same uncovered info is unclear at this stage.
Verbinski's The Ring was not only a huge success at the box office but it's easy to forget just how adored it was by critics too. The director of the film created a torrid, suspense driven but intimate horror movie that didn't rely on gore to create its scares. However, its success also paved the way for a cavalcade of rushed and ultimately tedious remakes of other Japanese classics, including The Grudge, Pulse and The Ring Two. That sequel – helmed by Ringu director Hideo Nakata – failed to match the critical or financial achievement of its predecessor.
Rings will be the third instalment to the horror franchise, and it will be overseen by F. Javier Gutierrez .The Spanish filmmaker worked his way up through the short film circuit with titles like 2001's Brazil, for which he received numerous honors. A few years later he was offered the opportunity to make his feature film debut with 2008's Before The Fall, which was a suspenseful and impressive first effort. Unfortunately, since then Gutierrez has only flirted with a number of projects, including a reboot of The Crow, but none of these have been able to get off the ground with him onboard. Rings will change that.
F. Javier Gutierrez will be working from a script that's had some pretty impressive writers slave over it. Akiva Goldsman is one of the most notable names, and has been one of the most prolific screenwriters in Hollywood over the last twenty years. And while he's scribed some stinkers (most notably Lost In Space and Batman & Robin), he's also proven that he's quite adept at bringing delightfully entertaining popcorn flicks to the big screen too (Take a bow, I Am Legend, I, Robot and A Beautiful Mind).
Alongside, Goldman Jacob Aaron Estes (The Details) and David Loucka (House At The End Of The Street) have also had a hand in Rings' script, and, because of the talent involved, there's every chance that it might not actually be quite the stinker that we're all silently expecting it to be.
Your Daily Blend of Entertainment News
Thank you for signing up to CinemaBlend. You will receive a verification email shortly.
There was a problem. Please refresh the page and try again.