The Fear Monger: The Next Ring Sequel Will Be Much Different Than We Thought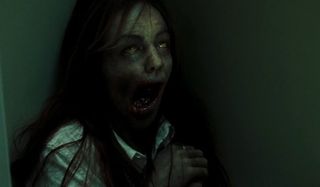 Good day, horror fans. In normal January fashion, there isn't a whole lot going on when it comes to horror, even though most other genres have theatrical presences right now. Just about the only new feature out there is Spike Lee's cursed Da Sweet Blood of Jesus, which came out exclusively on Vimeo this past week, ahead of its theatrical release in February. As well, Adam Wingard's stellar revenge thriller The Guest hit VOD this week, so if you have yet to catch up with that gem, now's the best time.
In smaller news, that high school teacher that showed her classes The ABCs of Death was found guilty of four felony counts of disseminating matter harmful to juveniles. The New Zealand horror mockumentary What We Do in the Shadows has one of the more questionable Kickstarter campaigns I've ever seen, in that it's to fund a U.S. theatrical release, and it's at least $150 to get a ticket to a screening, and you have to pay your way to either New York or Los Angeles. And though this isn't film news, BBC Three has cancelled the acclaimed post-zombie drama In the Flesh, which sucks.
And now, an unnecessary sequel has now become an even more unnecessary remake.
The Ring Sequel is Actually a Reboot
Remember when A Beautiful Mind and Winter's Tale screenwriter Akiva Goldsman signed on to write The Ring 3 some months back? Well it turns out not to be a sequel at all, but just another adaptation of Koji Suzuki's 1991 novel - and it's now called Rings. RINGS! David Loucka (The House at the End of the Street) and Jacob Aaron Estes (Mean Creek) also had early passes at the screenplay, though it isn't clear how much of their work will be in the shooting script. It also has a new star in Matilda Lutz, according to TheWrap.
Lutz, an Italian actress best known for her role on the show Fuoriclasse, will lead this new look at a mother and son haunted by a possessed videotape that kills you after you watch it, as directed by F. Javier Gutierrez. It's really hard to imagine where this film can go that will feel at all different - much less superior - to Gore Verbinski's Americanized take on Hideo Nakata's 1998 horror Ringu. I enjoy the concept of Samara and her tech-based supernatural powers, but The Ring 2 was enough to ruin it all for me. Here's hoping Lutz has what it takes to elevate whatever story will be told here.
Frank Grillo Could Return for The Purge 3
While we're not quite sure what it'll be about, The Purge 3 is coming to make the streets extremely unsafe again. Early rumors put the film's plot centered on the very first Purge night, which sounded like an interesting take on things, but producer Brad Fuller recently revealed to Collider that this is not the case at all - which technically means the macho maestro Frank Grillo could return to this hyper-peaceful-except-on-that-one-night setting. Nothing is set in stone, obviously, but Fuller seems keen on getting him back into the franchise. Said the producer,
This sorta matches up with what Michael K. Williams has claimed in the past, namely that his and Grillo's characters would be returning for the third film. The Purge: Anarchy was a definite improvement on its stale predecessor, but almost all of that enjoyment resting on Grillo's badass shoulders, with Williams pulling some late-film weight. My interest in this sequel is now firmly invested on whether or not Grillo is involved.
Bruce Willis is Finally in Another Horror Movie
Bruce Willis could use another hit under his belt. Could it happen with another moderately-budgeted thriller? He's signed on for the Benaroya Pictures production Wake, which is set to be the next film from The Quiet Ones and Quarantine 2 director John Pogue. Considering The Quiet Ones only brought in $17.8 million around the world when it came out, aspirations of this being a hit may be lofty.
Wake will see Willis as a man named Red Forrester, a sociopath who was banished from his childhood home (on a remote island) by a family whom he clearly pissed off and/or disappointed in some way. After his brother dies, he returns for the wake, and the island soon comes under siege. It becomes up to the crazy-pants Red to save the people who once denounced him. Considering Pogue's films tend to follow a "less is more" approach, Wake will probably disappoint the part of me that wants to watch a whole movie of Bruce Willis murdering people in a bonkers fashion. Which is all parts of me. Production is set to begin on Wake on February 16th in Cleveland, Ohio.
Social Media Turns Bloody And Terrifying In New Unfriended Trailer
It's no surprise that the upcoming horror flick Unfriended, formerly called Cybernatural, debuted its first trailer before the new MTV horror drama Eye Candy, as it's undeniably aimed at the same crowd of teens-to-twentysomethings. And it's undeniably intriguing, at least in that part of my brain that never evolved past excitement over high school drama. Levan Gabriadze's second full feature, Unfriended fully embraces its online gimmick by taking place entirely on a computer screen, in a way that looks similar to Nacho Vigalando's Open Windows, but it's an entirely different set of rules. Here's the clever (but boring) poster.
Unfriended, written by Nelson Greaves, takes place one year after the death of the wildly popular Laura Barns (Heather Sossaman), a girl who killed herself after a video was posted online, in which she was passed out at a party. The six people most responsible for treating Laura like shit get onto Skype for a conversation, and then – dum, dum dummmm – Laura's social media accounts start harassing the group, demanding to know who posted the video. Dark secrets come out, and some dirty shit goes down, and it all happens under the watchful eye of a computer. And maybe a ghost? If the characters are all douchebags, I'm not looking forward to hearing them talk over each other for 90 minutes, but I'll give this one a shot when it comes out. Gotta hear that gossip, y'all.
Enter the Dangerous Mind Trailer Mixes Scott Bakula, EDM and Insanity
So, the headline above admittedly sounds like it's describing a terrible made-for-cable thriller, but Enter the Dangerous Mind inspires interest with wobbly bass and paranoid editing. Jake Hoffman (The Wolf of Wall Street) plays Jim, a shy D.J. and computer repairman whose brain apparently needs music to keep sanity intact. When a budding relationship with Wendy (Nikki Reed) takes a wrong turn, Jim finds his sometimes-dormant mental problems coming to light (or dark). And then, I'm guessing, he starts killing people? Check out this nifty poster.
Directed by Youssef Delara and Victor Teran, the latter of which wrote the script, Enter the Dangerous Mind won favorable reviews when it premiered at last year's SXSW, partly for relaying its character's mental state out through its sound design. Beyond Bakula, who plays Wendy's boss, the film also stars Thomas Dekker (The Secret Circle), Joe Egender (Alcatraz), Jason Priestly (Beverly Hills 90210) and Golden Globe winner Gina Rodriguez (Jane the Virgin). Enter the Dangerous Mind will hit theaters and VOD on February 6th. What about that soundtrack, though?
Nick is a Cajun Country native, and is often asked why he doesn't sound like that's the case. His love for his wife and daughters is almost equaled by his love of gasp-for-breath laughter and gasp-for-breath horror. A lifetime spent in the vicinity of a television screen led to his current dream job, as well as his knowledge of too many TV themes and ad jingles.